If there's one thing Coloradans have leaned into over the past year, it's our collective love and reverence for the outdoors. Given that we're all spending more time at home these days, that translates in a big way to our outdoor living spaces. From the amenities to the views to the general aesthetic of our yards, patios and porches, homeowners are considering ways to design or upgrade the outside spaces that allow us to revel in the fresh air and sweeping skies of our surrounds while we cook, dine, relax and spend time with those most important to us. 
So, what outdoor design trends are hitting our radar for this year and beyond? Here, we zero in on two stunning outdoor spaces—both homes are winners of the 2020 Best In American Living Awards in their respective categories, the landscapes collaborations between Lifescape Colorado and KGA Studio Architects—for a glimpse of what homeowners are gravitating toward when it comes to open-air living. 
1. Clean and simple
Visual clutter is on the outs, and that goes for outdoors as much as inside. The grounds of this sprawling modern Cherry Hills Village residence showcase clean geometric shapes to complement the home's modern vibe, angled lines and sleek curves. Lifescape senior designer Troy Shimp calls it "effective simplicity…with some callbacks to a Japanese-style garden."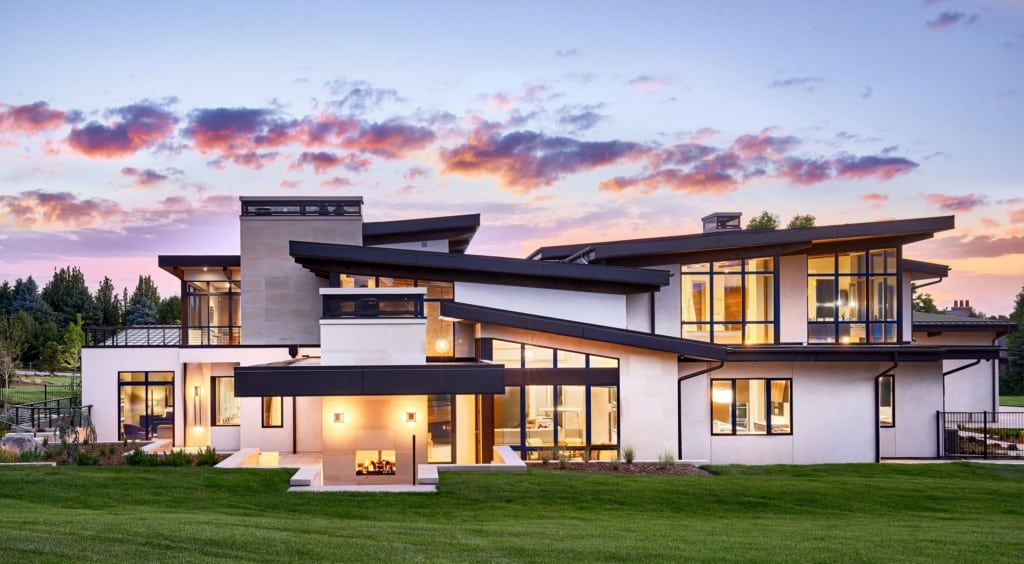 2. Night Lights
The best way to extend your day is more time outside, which means more evening illumination. Subtlety and careful placement are key. Here, for example, lights were "placed along the path for just enough of a light pool to comfortably navigate the space at night without the feeling of a runway," Shimp says. Other accent lights highlight design elements, like the stone monuments at the driveway entrance and the dramatic whites of the Aspen trees. "A key focal point of the front courtyard, a weeping cherry tree, was also uplit," Shimp says, "to contrast against the backdrop of the home."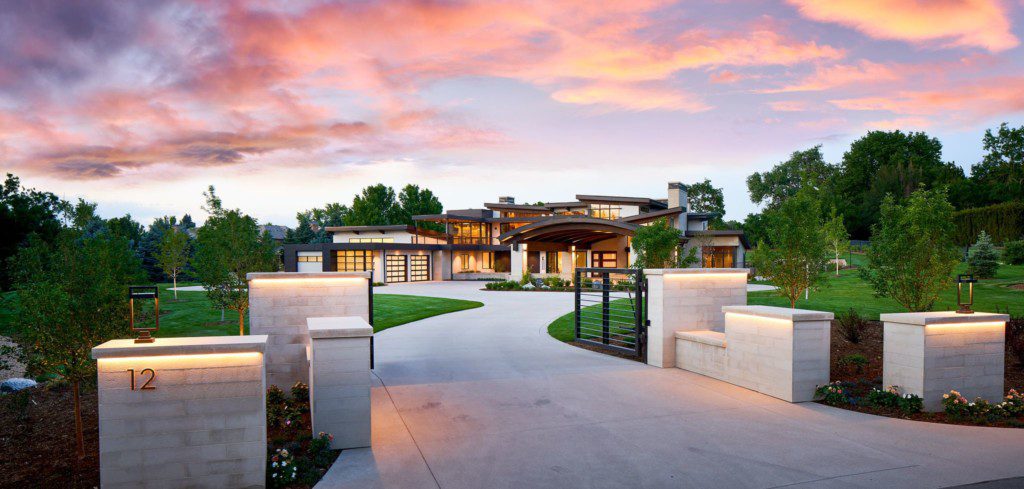 3. Trees as art
Well placed trees can serve double duty as shade providers and sculptural artwork, and many homeowners look at shaped, unique trees as statements of artistic expression. "It's very important when you've got such amazing architecture," says KGA senior partner Paul Mahony, "that you have amazing plantings as well." 
4. Outdoor "rooms"
Large group seating areas are big right now, with outdoor fireplaces often extending the home's architecture, including a roof, out into the yard to create an outside living room with a smidge more shelter than a patio.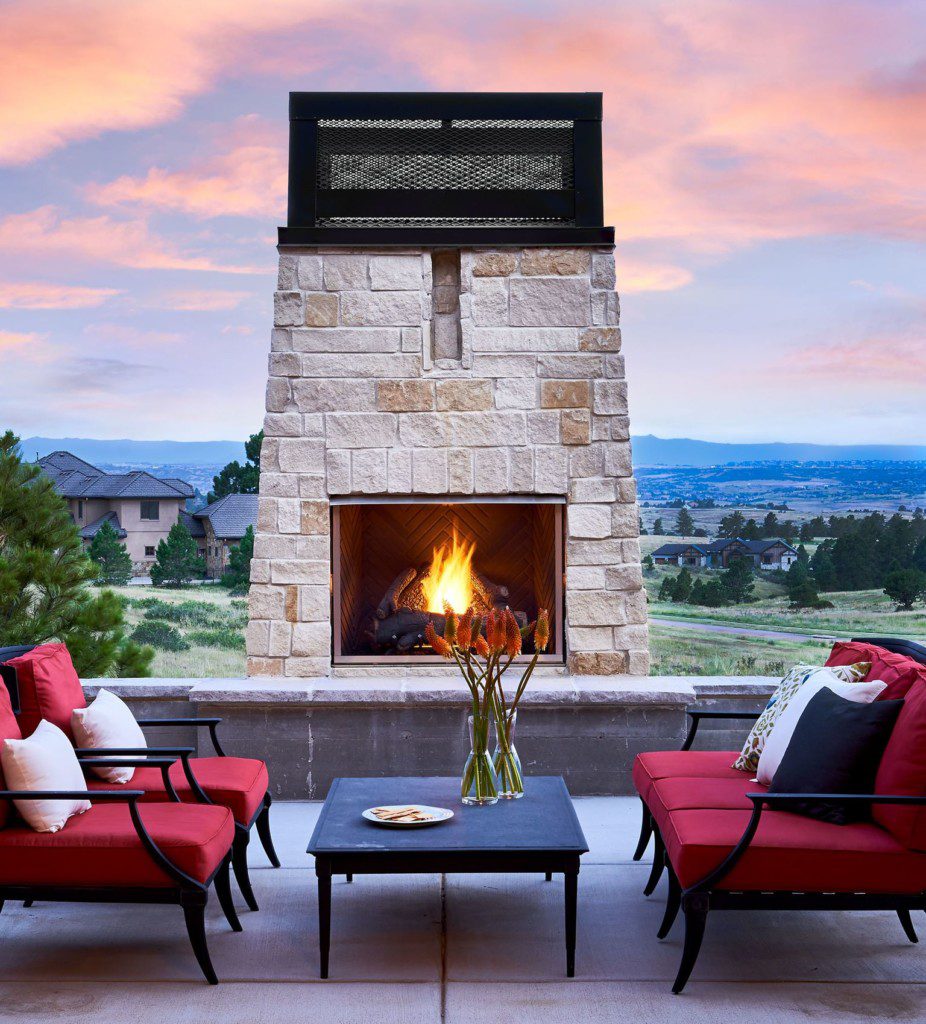 5. Fenced in
"Before, everyone wanted their fine homes placed in these park-like settings with no boundaries," Mahony says. "Now, people want to take control of their backyards and know exactly what they've got." 
6. One with nature
This contemporary farmhouse at the Colorado Golf Club is the perfect example of blurring the lines between the property and its natural surroundings, despite a difference in style. "The front walk steppers bring the 'contemporary' from the house out into the natural landscape," says Mike Ransom, Lifescape's director of pre-construction services. Beyond that, prairie grasses surround the home in lieu of hardscaping and pathways.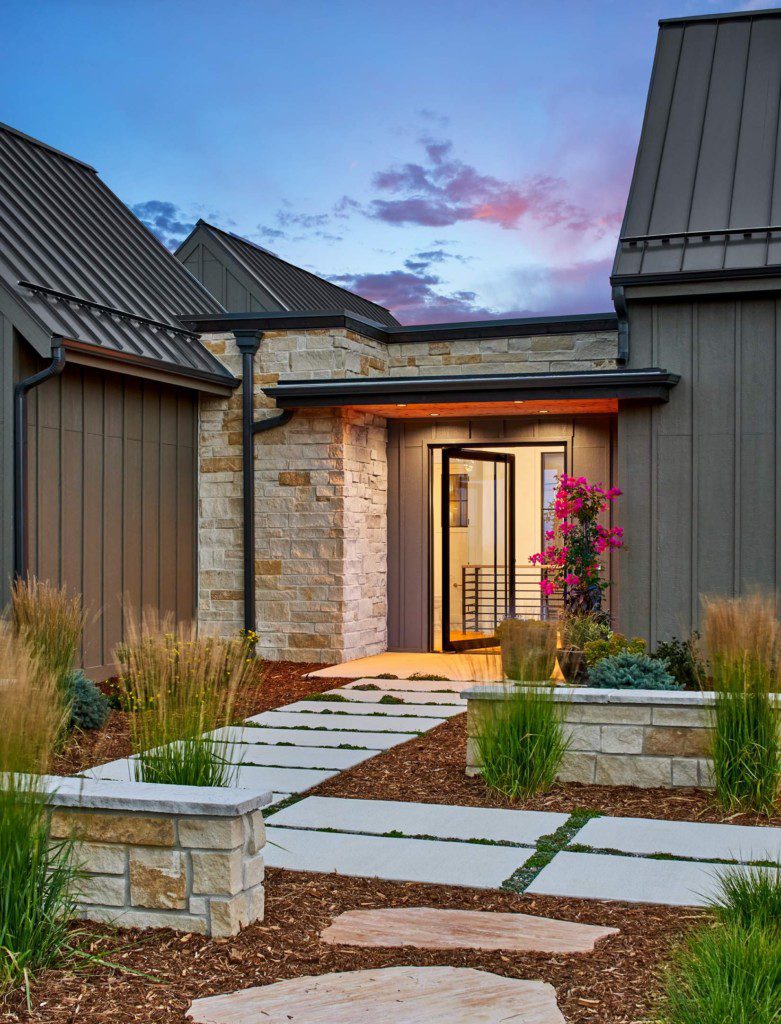 7. Keeping it native
Many clients want their grounds to mimic the land that was there long before the neighborhood was. The best way to do that is sticking with natural grasses and plants as you move outward from the house. "When you build out into the prairie and hillsides, you want the landscape to look like it was always there," Mahony says. Bonus: Very little maintenance.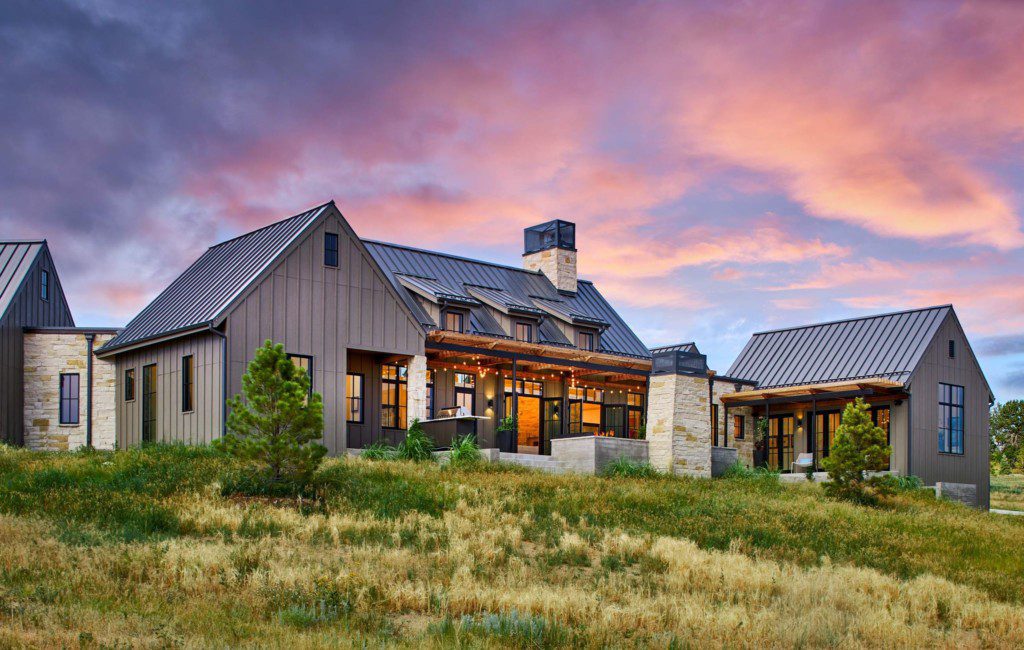 8. Alternative shade
Natural landscaping in our dry climate often comes with low, prairie-level plants as opposed to towering trees—especially if your subdivision is new. Translation: limited shade. Some clients are considering sleek shade sails to help ease the sun burden in place of bulky umbrellas prone to tipping over. 
Landscape care requires knowledge, expertise and experience. Lifescape Colorado brings this trifecta to properties across the state. We have 45 years of experience with a dedicated team of landscape design, construction and property care and maintenance experts.   
To inquire, please contact us at info@lifescapecolorado.com or call at (303)-831-8310.