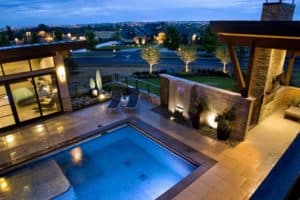 STREAMLINED PLANNING & EXECUTION 
Through strategic planning, our unique design/build/care model is streamlined to be efficient. We think through the maintenance phase early in the design process, moving with clear, creative direction, saving you time and resources on your landscape. 
COMPREHENSIVE PROPERTY CARE 
To ensure outdoor spaces and gardens thrive, Lifescape provides premier landscape property care services customized for each project by our expert staff of horticulturalists and technicians. 
INNOVATIVE IDEAS THAT ADAPT 
As technology changes, our designs adapt for innovative living. Our landscape architects have a reputation for exceptional design and craftsman-level construction. Don't just take our word for it, our team has earned more than 50 industry awards and accolades. 
DESIGN FOR THE FUTURE OF OUR WORLD 
Lifescape leads the industry with water-saving initiatives and sustainable construction and maintenance practices. Sustainability is an important factor in our work and guides our approach to every project. 
Lisa Bowman
Interior Designer