Four and a half decades ago, Lifescape Colorado began as Lifescape Ltd, on the corner of 16th and Downing Street. Inspired during our founder's trip to California, Lifescape's vision was to create meaningful outdoor spaces for Mile High City residents. In 1976, Denver was an oil-and-gas boom and bust town, with just over 1.2 million residents in the Metro area. Jimmy Carter was elected president, Apple and Microsoft had just incorporated, and the nation celebrated the bicentennial—all during the inaugural year of Lifescape's journey. 
A small team run by founder Charles "Randy" Randolph, Lifescape was founded as an outdoor living solution company, empowering Denverites to enjoy the city's 300+ days of sunshine each year. That's always been our purpose.  
I joined the team along the way, but only after a journey of my own—one that helped me love Lifescape even before my first day on the job. Let me briefly take you down my own memory lane…  
As a 14-year-old 4-H kid in Hastings, Neb., I was the first employee at a local landscaping company, Michael Daniels. Within a few days of taking that job, I went from watering plants to handling nearly every task the owners needed to be done, working until 11 p.m., even on school nights. Having grown up on a farm, I knew hard work. I knew what plants—and animals and humans—needed to thrive. I knew the value of both quality design and nurturing care when it came to all of these things. And I understood the business behind it, as my family started the farmer's market that still operates in Hastings, Nebraska.
 
After a series of entrepreneurial endeavors, a chapter at a big consultancy, crisscrossing the country each week for client meetings, and a variety of rich experiences with innovative companies that fostered my love for hospitality, I set roots down in Denver. Soon after, I found myself a new homeowner seeking proposals from landscape architects. I asked each one of them who they would work for if they were ever to change jobs—they all said, Lifescape. Why? Because Lifescape had an unwavering perspective to hold the client's needs first, providing the best in quality design and service.
Our team has grown steadily over each decade. Lifescape took on new clients, new revenue streams and an expanded vision for how outdoor spaces can change behavior. We've always worked with a purpose, in my case, it blends my passions for both people and science with a pursuit of excellence.  
At Lifescape, I'm not alone in that. Ask any member of our team what inspires them, what anchors them, and they'll tell you about their personal value for client care, innovative and functional design, and a focus on true beauty. Working with a purpose continues to inspire us daily. 
Weathering recessions and leadership transitions, we have gained incredibly valuable perspective and maintained a focus on trusting client relationships and timeless design. Since our goal is to partner with clients forever, we need service lines that care for their landscape needs year-round. We spent years focused on becoming the household name in landscape architecture, design, construction, property care and maintenance. Then came the pandemic.  
We're no strangers to market adversity, but COVID-19 changed everything. Yet, in a bugless, sunny-in-January destination like Denver, the pandemic challenged us to continue to serve the evolving need for outdoor spaces that provide function and extra square footage for life at home.  
So, what's ahead of our next 45 years? Historically, water was the only thing holding us back in Denver. A metropolitan area now home to nearly 2.9 million. As we continue to operate amidst great change, some things will always remain:  
Our purpose is to create, construct and care for outdoor spaces that help our clients live their best lives year-round. 
The perspective we've gained over the last 45 years has fortified our love for beautiful, high-quality, timeless design and our gratitude for collaborative clients who share our vision. 
The plan has always been to provide the best design, construction and property care in outdoor living. You will continue to see Lifescape apply this with unprecedented service and product offerings in the coming years.
I believe we've built a community with long-standing values for absolute beauty, natural resources and a focus on sustainability. As we continue forging innovative sustainability practices, designs and experiences, we hope you'll join us in this next chapter. 
There's one photo in my office of my brothers and me wearing our 4-H shirts. What it says about me could be said about each member of our Lifescape family: We are passionate about people and science. We are so grateful for the opportunity to create and care for hospitable, inviting, enjoyable spaces where you can thrive. 
Farm life ignited my interest in a variety of academic fields, including accounting, biology and the business of agriculture. School led me from Creighton University, where I cleaned trauma rooms at an Omaha hospital, to a short stint as a McKinsey consultant with clients like Warner Bros., to Stanford Business School, to a variety of roles on both coasts. I started a private label wine company, where I learned about hospitality, entertaining and the impact both have on the lives of others. 
Hard work, a focus on quality and delivering outdoor experiences were always the core DNA of Lifescape. These aspects of how we do business will always be our beacons as we continue doing business for many years to come.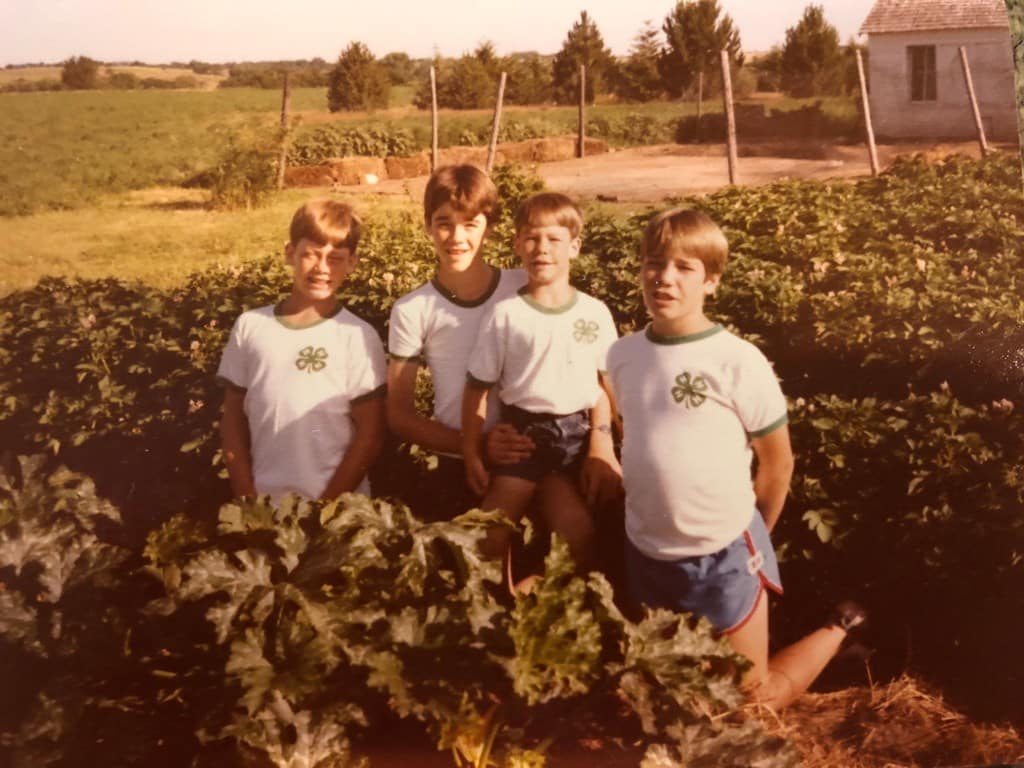 My brother Gregory, me (Michael Hupf), brothers Jason and Phillip. Not pictured is my brother Stephen.