PlantTalk Colorado says, it's "one of the most ornamental and useful native plants for a Colorado garden," and Better Homes & Gardens names it one of their "Standout Plants for the Mountain West." A shrub native to Colorado, rabbitbrush not only celebrates the natural beauty of our state but it inherently comes with a tolerance for the tougher soil and weather conditions specific to this region, making it ideal for smart and stylish Colorado landscapes.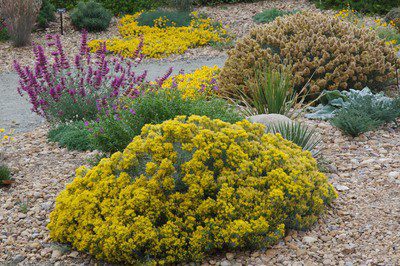 Natural Habitat
Rabbitbrush grows wild in semi-desert areas up to an altitude of 8,000 feet and does well even in disturbed soils, such as the burnt soils of areas that have suffered fires.
Size and Shape
Larger varieties of this shrub grow to approximately five feet high and wide while smaller varieties, like Baby Blue Rabbitbrush, grow to a convenient, compact size of around two feet in height and width.
All varieties feature narrow stems and leaves that grow in clusters. In the case of Baby Blue, leaves are extra thin and appear as long blue-green needles.
Color 
Rabbitbrush leaves range from deep blue-green to dusty silvery-green. In late summer and autumn, rabbitbrush bursts with showy yellow flowers.
Fluffy light tan to brown seedheads replace the yellow blossoms when the shrub goes to seed. These colors and textures last through winter, adding subtle interest to landscapes during colder months.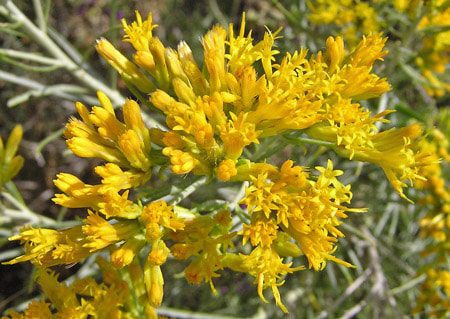 Bonus Features

Rabbitbrush is exceptionally fragrant, especially when the stems are pressed or after a storm. This lively shrub can also energize landscapes by attracting butterflies and birds. Butterflies love the yellow blooms, and many birds often flock to the seedheads that develop in winter.
Culture
Rabbitbrush is not fussy about its soil. It grows well in clay, loam, sandy and other poor soils. This accommodating heat and sun-loving plant also tolerates windy conditions and requires little to no supplemental watering once it has established. Its low-maintenance and drought-friendly nature makes this native shrub a valuable addition to a water-wise landscape design.
Creating an attractive yet drought-resistant landscape requires extensive planning and in-depth knowledge of plants and xeriscaping practices. Let the professionals at Lifescape help bring your Colorado landscape to life even during the driest parts of the year. Contact us today to learn all about our greater Denver area landscaping services.