With the right plants and design, potted plants can add year-round beauty and life to Colorado landscapes.
Single plants with rich colors or interesting shapes can be planted in individual pots to stand alone and create eye-catching focal points. Or, multiple plants can be carefully combined to create lush, portable gardens.
When designing a container with multiple plants, the three main ingredients for a beautiful design are thrillers, fillers and spillers. Thrillers are colorful plants with brilliant blooms and/or striking foliage. Fillers provide attractive bulk to the arrangement, much like a florist's use of Baby's Breath or fern fronds in a bouquet. Grasses and leafy plants, for example, make great fillers in potted plant designs. Spillers, as the name implies, are plants that gracefully spill over the sides of the pot as they grow. These include vines, cascading flowers or trailing succulents. Let's look at a few classic thriller, filer and spiller combinations that make for stunning year-round container designs.
An evergreen, such as an Emerald arborvitae, can easily function as a thriller, due to its textured foliage and height. It's wonderful for pairing with low-growing fillers and spillers that have contrasting colors or textures like shiny, large-leaf bergenias.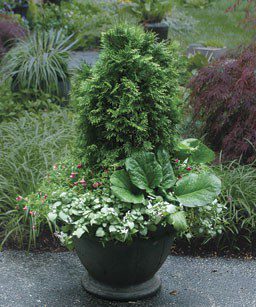 Large showy shrubs, such as the redtwig dogwood, also make a fantastic thriller focal point in a container arrangement. This dogwood has attractive green and white leaves that are offset by bright red stems, providing a burst of welcome color during winter months. Cascading vines and flowering plants like the heucheras can be used to complement redtwig with small spots of interest as in the example below.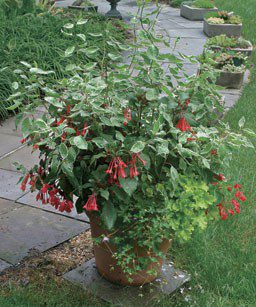 Low-growing 'Blue Star' juniper also works beautifully in potted designs as its branches grow to elegantly arch over the edges of the pot. Plus, its dusty blue needles look great with almost any plant. Here it's paired with 'Fuldaglut' sedum for a nice visual effect.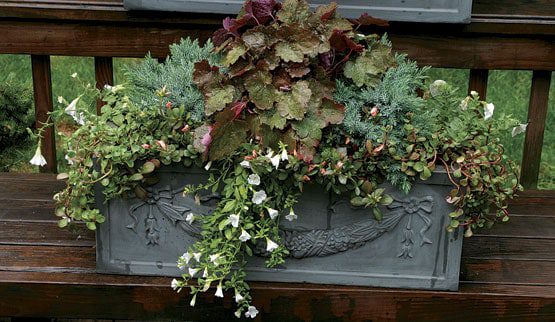 If your Colorado landscape could use more year-round interest, and you (and your wallet) could benefit from a landscape that is water-wise and low-maintenance, contact the landscape designers at Lifescape.