Behind the Designer's Desk with Senior Landscape Architect Dan DeGrush
For nearly half a century, Lifescape has been pioneering outdoor living in Colorado, bringing unparalleled professional design, construction, and property care services to a discerning clientele. Our award-winning portfolio reflects our team's talent, passion, and dedication, staffed with leaders such as Senior Landscape Architect Dan DeGrush, who's devoted 13 years at Lifescape to helping clients realize their vision for custom outdoor living spaces. 
A Colorado native through and through, Dan was raised in Colorado Springs, where he developed an early love of the outdoors. Thanks to his dad's background in architecture, he also grew up with a drawing desk at home. After honing his interests through the University of Wisconsin's landscape architecture program, Dan returned to his roots to pursue a career that let him blend his love of the outdoors with his intuitive creativity. Here, we go behind the designer's desk where Dan dishes on the day-to-day, his inspiration, and why he loves his job. 
Walk us through a day in the life of a landscape architect. 
You're wearing 20 different hats every single day. You might be wearing your sales hat with a client in the morning; you've got great ideas, you're sharing what your process is, and you're delivering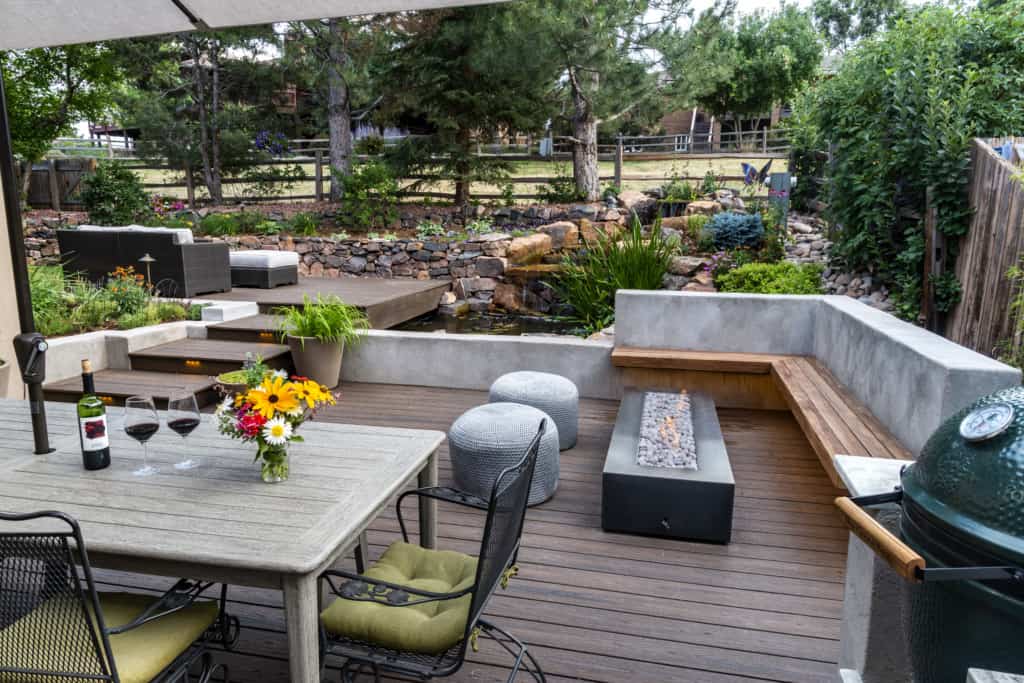 a lot of information. Fifteen minutes later, you're taking that hat off and driving up to Evergreen to pick out boulders at a quarry. You're climbing on top of rocks, using spray paint to mark boulders, and wearing hard hats. Right after, you're making a phone call in your car to discuss what the grades should look like on a site. As soon as you end that call, you're pulling up to another house to present a design. And that's just the morning. There's nothing mundane or monotonous. And everything we do is custom, so I'm not replicating the same design over and over. 
But what comes with that: Your brain is on all the time. For example: When I go for a run on a weekend, frankly, that's when I do most of my design work. It allows my brain to get out of project management mode and get into creative mode, and I can let it do its thing. When I get back to the drawing board to draw a conceptual design, that design is in my head, already done. I just need to portray it on paper graphically. 
To what type of style do you gravitate? 
I enjoy designs that are a little more traditional, but our job requires us to do it all. At 10 a.m., you may meet a client who wants a very east-coast feel, and your next client that day will say, "none of that traditional vibe; I like clean, contemporary lines," and the next one is up in Evergreen and wants mountain-modern. If I were to do a new-build home, I'd let the neighborhood, landscape, and geography drive the style. The architecture and the lot size are huge drivers of what the landscape design will look like as a finished project. 
Some clients aren't sure what they want; how do you create a design? 
There might be subconscious questions I ask clients that give me bookmarks or wayfinding points to understand. Does that client want to stay within X budget, and that's the main driver, or is that client looking for creative ideas and the budget is not driving the decision—maybe the wow factor or the comfort factor is what's causing it. Sometimes they tell me everything they want, and I just need to listen and graphically put it on paper; other times, they want me to have a full creative license. 
What do you love about landscaping?  
The fact that you can, in a positive way, impact how people go about living their lives. Through landscape design, you can direct them to this part of the house or that part of the outdoor area; you can lead them to look this way or that way; you can make sure a site is more fun. You're able to influence people positively, and that's pretty neat. Plus, design can go into construction quickly, sometimes in a couple of weeks or months. And then you've got a finished product, and you can stand back and say, wow, we created this. We did this. It's a satisfying thing that makes you feel like you're accomplishing something. You can experience the results. I like that about the design-build industry as opposed to some industries where it takes five years for a project to come together, for example. 
On the flip side: What's tricky about designing landscapes in Colorado? 
The weather. The impact the weather has on our industry is extreme. When you picked out the world's most awesome tree—you spent hours selecting it—and all of a sudden, there's a freak freeze, and the tree dies. It was the tree, and it's gone. That's challenging. But it's part of the creative process. 
Where would we find you on the weekend or a day off?   
I like to play golf. And a couple of times a summer, I love to turn my phone off and go camping and just explore, not even knowing where I'm going, finding dirt roads, a new camping spot, a new lake to go fishing. I won't even bring a map. All I need is to relax my brain with a total change in routine. I'm an active person, so you wouldn't find me sitting on the couch watching TV. 
You are a visual person; what inspires you? 
I get inspired going on many runs, or whenever I take my daughter to the park, a restaurant, or a Broncos game. Wherever it is, I notice different designs like plazas, restaurants, and landscapes that I pick up on and think, oh, that combination looks great, or I love that color, or I like this tree with that plant with that boulder. I take pictures of those elements, or I just lock them up in my brain when I come across that type of project. I also follow a few Instagram accounts of designers. If I find something I like online, I screenshot it, email it to myself, and save it in this folder labeled "inspirational images." If I ever have designer's block, I'll scroll through a hundred of these pictures, knowing I thought this was a fantastic idea. 
What do you wish all homeowners would understand about new outdoor space? 
It's something that requires patience and time to grow in. It doesn't happen overnight. There are weather setbacks and insect setbacks. What makes it so incredible is when it comes together, no matter what kind of journey you had to get to that point. 
Biggest landscape faux pas? 
Nothing good comes from stamped concrete. 
If you weren't a landscape architect, you'd be…? 
It'd be so fun—and this would be a total lifestyle change—to grow up on a ranch. Like on the Western Slope, with horses. At this point in my life, that'd be awesome. 
Most beautiful place you've ever visited? 
Bora Bora. That'd be tough to beat.