Avoid common pitfalls and use these pro tips for gorgeous water-saving garden design
All across the West, homeowners are trying to cut down on their water use. After all, data shows that nearly 50 percent of the consumer water use in Denver goes to watering lawns—or "thirsty, drug addicted carpets," as Jacob Rogers, a landscape designer with Lifescape Colorado, describes the typical suburban lawn.
In a time when it's more important than ever to protect our environment and preserve our natural resources, xeriscape design has become a popular design choice for countless homeowners and property owners—especially in the drier, Western states. A xeriscape landscape design or xeric garden doesn't mean that you need to turn your yard into a desert. Xeriscaping means that you utilize methods and strategies to use as little supplemental water on your landscape as possible. Not only is this positive for the environment, but it can also save you on costs, too.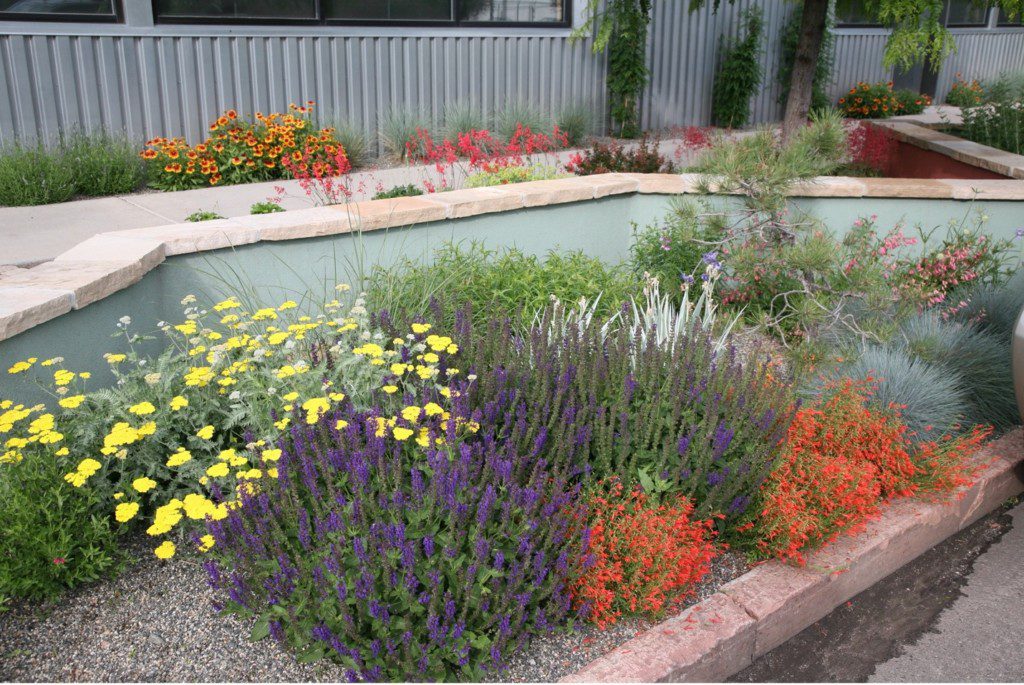 LifeScape Colorado is your premier landscape design firm serving homeowner and property owners in Denver and across the great state of Colorado. Whether you need landscape design, construction, property care, or ongoing maintenance of your outdoor space, we have the experience and professionalism to meet your landscaping needs. Read on to learn more about how you can design the perfect xeric garden for your home or property.
What is a Xeric Garden?
A xeric garden, sometimes also called xeriscaping, relies on the art of plant placement, water conservation and other management strategies for water-wise gardening that also creates a haven for the humans and other living creatures who enjoy it.
Interest in xeric gardening is up—way, way up—with homeowners eager to reduce environmental impact, beautify their outdoor living space, and conserve water as well as save on maintenance costs.
But implementing a xeric landscape or garden takes planning, strategy and careful design. "The trick is to not make it feel barren, desert-like and hot," says Rogers. Many xeric gardens can miss the mark: monotonous material choices, plants that don't harmonize with each other, and missing design elements for visual interest all can make for a garden feels flat. But these pro tips will have you planning a healthy and water-saving outdoor space that feels vital, fresh and alive all year long.
Tip 1: Create a balance with biodiversity
One of the hallmarks of any good garden is biodiversity. Unfortunately, however, too often Rogers sees landscapes that are monotonous and lack variety. On the other hand, he also see landscapes that have so many different types of plants that they feel scattered and chaotic.
What's a simple fix? Choose 5 to 15 plants, depending on your space size (more for larger spaces), and use with repetition in the landscape so that it feels cohesive. According to Rogers, "you want there to be a rhythm to the plants; in a larger space, a little bit of repetition in the plant palette creates cohesion."
Here are a few xeric-friendly plants that Rogers would recommend for a typical Denver bungalow yard, on the small side:
Bright-edged yucca to create a larger focal point
Dragon's blood sedum for the pop of red/burgundy
Blue avena grass for softness and color
Manzanita "Panchito," a dwarf evergreen that retains its leaves all year, for winter interest
Catmint, for a long and reliable bloom.
Tip 2: Create year-round interest with plant variety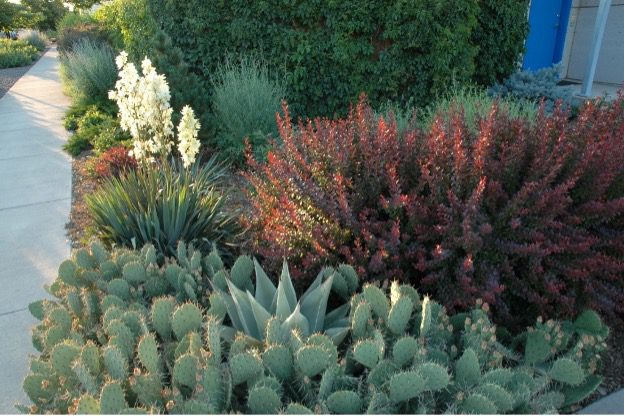 Just like any other landscape, a xeric garden changes with the seasons. This is why it's best to add plants that hold year-round interest and appeal. Yuccas are one plant that will brighten a winter landscape as they keep their sword-shaped leaves year-round. Another ideal option are manzanitas—shrubs that offer a pretty contrast between their red bark and berries and bright green oval-shaped leaves.
Tip 3: Get the soil right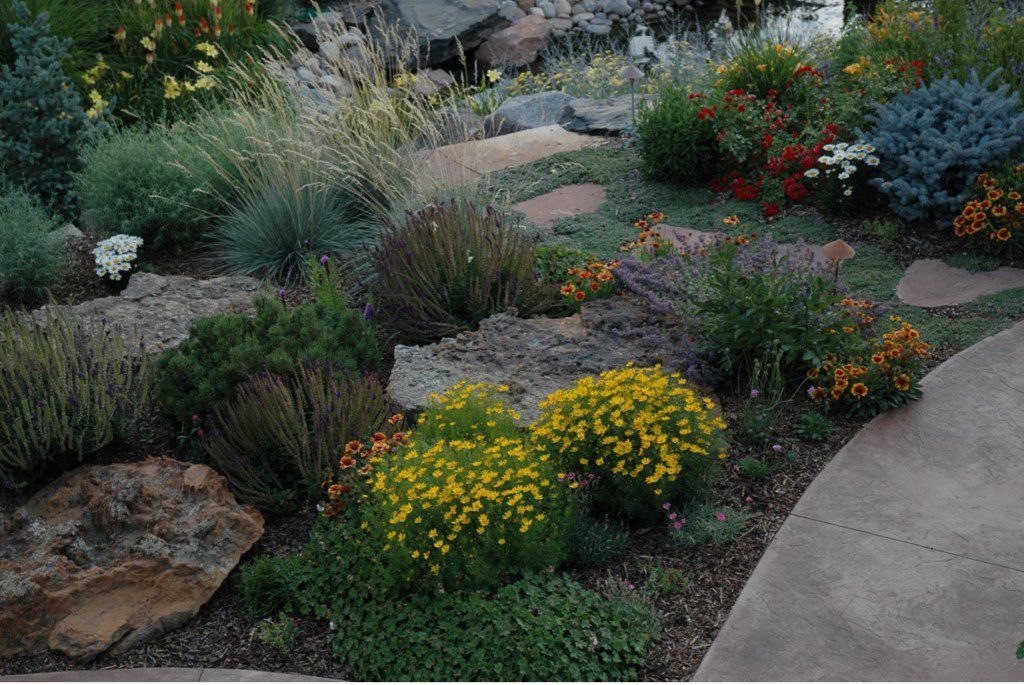 When transitioning from a more traditional landscape design or garden design to a xeric garden, it's important to amend the soil by adding pea gravel. Mix it in directly to create pockets of air that help with drainage. "Xeric plants don't like wet feet or standing water," Rogers says. When establishing the garden, a general all-purpose fertilizer when planting will give plants a bit of a head start, but these are hardy plants, so you don't need to babysit them too much, he adds.
Tip 4: Use a variety of rock materials to add contrast

If you elect to use rock mulch and boulders, mix things up for the best visual impact. "A common error we see is choosing just one variety of gravel, for example," says Rogers. "I like to treat the ground cover like part of the design itself." In his landscape designs, he works with mixtures of colors and textures, such as granite and river rock mulch, used in alternating strips.
When working with accent boulders, Rogers chooses something that will pop against the ground cover and add some contrast to your design. For example, he'll pair a gray rock mulch with a moss rock boulder. With a more brown/beige river rock, Rogers creates contrast with a granite boulder that features striations.
Tip 5: Add elements that draw the eye (and the humans)

Breaking up the garden space with planters, pathways, or artwork is a beautiful and eye-catching way to move the eye through the garden and provide opportunities for interaction with the space.
Here are some tips for adding elements to your xeric garden:
A kinetic sculpture can add movement
A large outdoor sculpture or steel planter can serve as a grounding focal point
Wood decking softens the feel of the rock in the garden
A paver patio and fire pit provides space for enjoying the garden from within
A curving path of pea gravel or pavers can guide the eye into the space and invite exploration.
Xeric gardening can result in a stunning and sustainable landscape that's not only low-maintenance, but beautiful all year long.
At Lifescape Colorado, our mission is to create and maintain sustainable outdoor spaces. Are you ready to fall in love with your yard, and at the same time, save on costs, maintenance time, and protect our natural environment? If so, a xeric garden could be perfect for your landscape.
Contact us today to talk about creating your dream landscape.