Top Tips for Creating Curb Appeal With Spring Color 
Spring is (almost) here which means it's time to turn your sights outside and plan for beautiful, colorful blooms. At Lifescape, we are well-known for our love of color, and with careful planning and care, we're committed to making your wildest and most vibrant ideas come to life. 
Ready to create maximum curb appeal? Here are our top three tips.
Create immediate color with bright, beautiful annuals

Ensure the proper mix of sun, water, and nutrients to bring your perennials back to life.

Design a mix of annuals and perennials to keep your landscape a riot of color and texture all year round.

 

Create Immediate Color With Annuals
Annuals, which are designed to be a riot of color and blooms for a short period of time, provide a fresh splash of color each season and can be designed to suit your changing tastes or moods. 
We like to start by asking what style and color palette suits you best? Do you love a dramatic tropical vibe? If so, we can plant containers full of elephant ears and design trellises with flowering vines. For those who like a more traditional palette, consider a mix of classic colors planted along the border of your lawn.  
At Lifescape, we focus on two locations for annual plantings—bedding and containers—over the course of all four seasons—spring, summer, fall, winter. The goal is to plant at the right time and in the right conditions for maximum bloom and color.  
Make sure you consult with your local landscape expert to determine the style and variety that thrive in your specific environmental condition.  
Eric's Tip: Change out your color four times per year—spring, summer, fall winter—for maximum impact and color! Annual planting starts late May to miss the final frost. For winter, we design beautiful evergreen planters for the holidays that can be transformed into a beautiful winter palette come January.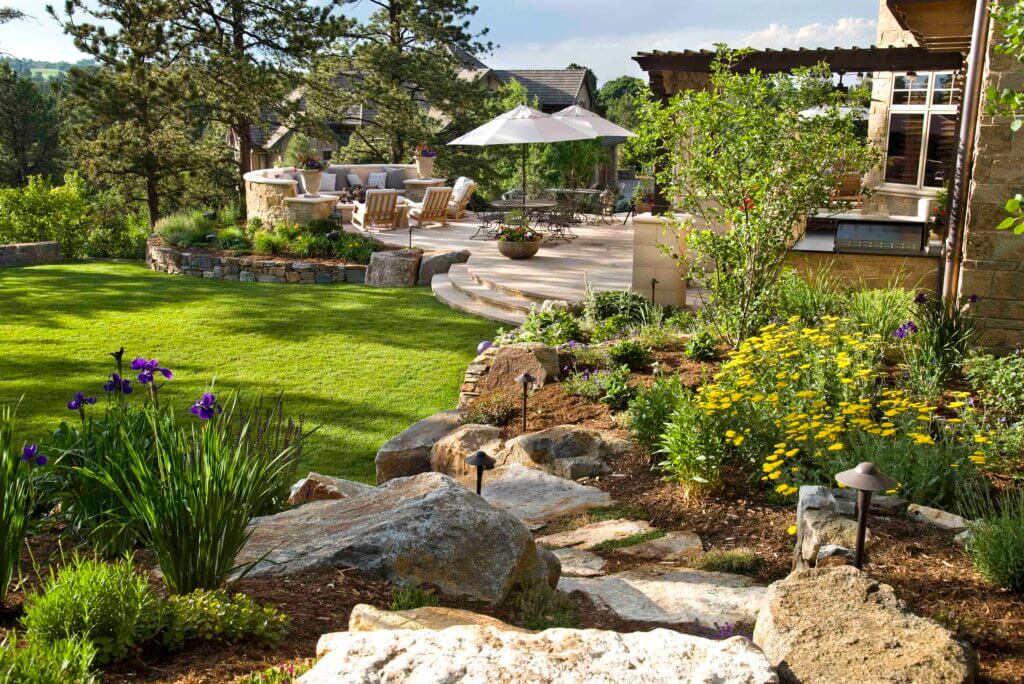 Perennials
Once planted, perennials will live for many seasons. Plants like iris, day lily, yarrow, penstemon, and grasses provide great color and texture throughout the growing season.   
Perennials need the right mixture of sun, water and nutrients to maintain optimum health, so make sure they get fresh mulch, the right amount of cutback, and proper moisture levels from your irrigation system.  
With perennials, it's important to consult your local landscape professional to arrange your plantings for a full season of color. Certain plants thrive at certain times of the year, and our goal is to make sure your plants are arranged so they don't all flower and thrive at the same time.  
"You want a continuous show," says Lifescape Enhancement Sales & Production Manager Eric Bell.