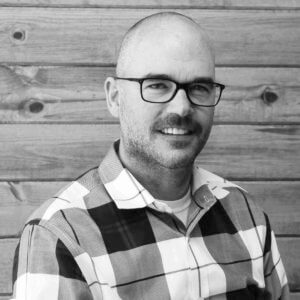 Welcome to our new blog feature that focuses on getting to know the incredible people who make Lifescape the best. For the first post in this series, we will start with Michael Hupf, Owner/President. Of course, Michael was against being first and fought us on the choice. That is an important thing to know about him – he is extremely proud of the Lifescape team and prefers for the spotlight to be on the other talented individuals who keep the company growing day in and day out. We hope you will enjoy getting to know a little more about Michael!
How long have you been with the company?
14 Years
Why Lifescape?
The short answer: The People.
The long answer: When I moved to Colorado, I knew I was interested in getting into the luxury home construction business. I also happened to need a complete landscape overhaul at my own house. I called the top three residential landscape firms in town and interviewed them to do my home. Lifescape was the clear choice, although I was also impressed by one of the landscape architects at one of the other firms. When I found out the owner of Lifescape was interested in selling his business, I jumped on the chance. Since the owner of Lifescape at the time was also head of the company's design department, I knew I had a HUGE role to fill. I reached out to the tenacious and talented Landscape Architect who had impressed me from the other firm to head up the new Lifescape Design Department. That was one of the smartest decisions I have ever made. LeAnn Ostheimer has helped me grow this company in all the right ways over the past 14 years. While I don't have formal education in landscape construction, design and maintenance, surrounding myself with the best and brightest in all those fields has given me the training I needed to fall in love with this industry. It constantly offers just enough challenge, complexity, unpredictability, creativity and growth potential to keep me on my toes and excited for what the future holds.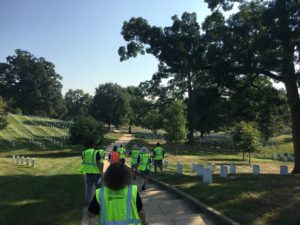 What is the recent accomplishment you are most proud of in your work with Lifescape?
For years now, I have gone to DC to join 400 of my peers (owners and employees of landscape businesses) from around the country to serve at Arlington National Cemetery and Soldiers' and Airmen's Home National Cemetery for the Renewal & Remembrance Volunteer Day of Service. This incredible group of volunteers came together on a crazy hot day this July and accomplished: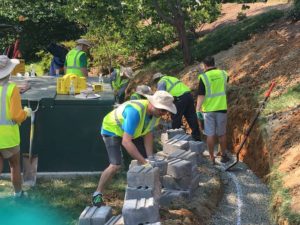 • 108 acres aerated
• 5 acres limed
• 46 acres received phosphorus
• 4 trees received lightning protection
• 3 Irrigation projects completed
• 1 large retaining wall built
• The children's program planted 300 annuals and 15 shrubs at the Mast of the Maine memorial
It is an honor to give these important landmarks the attention they deserve in order to offer peace, comfort and remembrance to all who visit.
What is the most fun you have had at work in the past year?
A substantial portion of our team is seasonal – only working with Lifescape for a few months out of the year. It is tough to get to know them based on how intense their work is during the summer months. One Friday afternoon, I was able to just hang out with these crews for a couple of hours over pizza and beer. Their reporting bosses were not around, just me and my partner of 22 years. Luckily he speaks fluent Spanish. The work these crews do is critical to the success of Lifescape. It was so great to spend some time laughing with them and hearing their stories.
What is something people are always shocked to learn about you?
I was raised on a farm in Nebraska with 4 siblings and I have an MBA from Stanford. The two together seem to shock most people.
Favorite getaway for a real break from work?
Touring Napa and the Wine Country. I am always looking for my new favorite Cabernet and Chardonnay! And I usually get some work done too. Lifescape creates a custom blend red & white wine every year for our client holiday gifts. My trips to Napa help guide the wines we bottle every year.
What is your biggest challenge at Lifescape? And how do you solve it?
Filling openings (both seasonal and long term position) with the best talent. Finding the right people is a never ending challenge for us. The level of detail and attention we offer our clients requires a unique mix of talent, experience and resourcefulness combined with the ability to communicate effectively and efficiently both internally and externally.
Hiring a dedicated, top notch HR Specialist has helped us manage this challenge. Through NALP, I am also a member of a group that goes to DC annually to campaign for better laws to help with seasonal worker issues. Landscape professionals from all over the country, and both political parties, come together for this cause which affects our entire industry. 'Legislative Days on The Hill' organized by NALP gives us a collective voice to more effectively and directly speak to our representatives in Congress.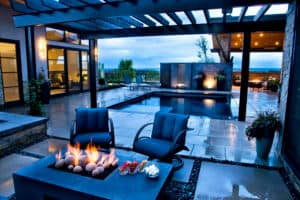 What is your most recent favorite Lifescape Project and why?
I would have to say the Modern Native project because of both the finished project and the clients. There were plenty of challenges with this project and the clients had very high expectations. The project has a rare blend of sophisticated style while still being super functional for family gatherings. I also love that the look is as successful in an urban setting as it is in more rural estate setting. Designer LeAnn Ostheimer brilliantly wove together a pool, a fire pit, outdoor kitchen, water feature, fine art sculptures, living and dining space all while complementing the modern style of the home. We were thrilled when this project won 'Best Outdoor Space' at The American Society of Interior Design Crystal Awards this year. And the clients are some of the most warm, gracious people I have ever met. Take a tour of the project: Video