While grass, trees, and outdoor fixtures are some components of a landscape, shrubs are often the key players. These small to medium-sized plants are some of the first things that you'll notice about a landscape and serve as the foundation. Therefore, it's critical that you give careful consideration to the shrubs that you choose from your yard.
Here are several shrubs that will make a statement and work well in our Colorado landscape:
Dark Knight Spirea
Although we're approaching the end of the summer, incorporating this low-maintenance shrub into your garden will allow you to experience blooms late into the season. This stunning plant is known for its dark green leaves and deep blue flowers. Bees are attracted to this shrub, which helps to pollinate your garden.
Korean Spice Viburnum
This shrub keeps on giving year-round with its gray-green leaves that turn into a beautiful bronze color in the fall. In the spring, pinkish-red buds bloom into clusters of white flowers. Even though this shrub stands six feet tall on average, it's still smaller than most viburnums. This shrub also puts off a delicious fragrance, which will make you want to spend more time in your yard.
Dwarf Blue Rabbitbrush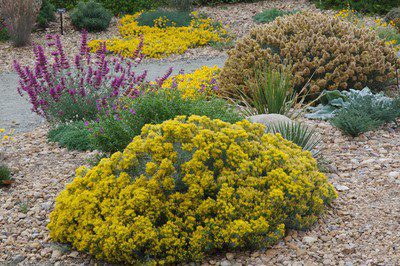 Source: David Winger
The Colorado landscape is dry throughout much of the year, which makes Dwarf Blue Rabbitbrush a smart choice for your yard. This shrub requires little water and flowers throughout the summer. Towards the end of summer, Dwarf Blue Rabbitbrush is recognizable for its golden-yellow flower clusters that cover the shrub.
Kelsey Dogwood
If you're looking for a low-growing shrub, consider the Kelsey Dogwood. This shrub offers rich green foliage during the summer months that changes into a brilliant red color in the fall. The Kelsey Dogwood is aesthetically-pleasing even in the winter with its bark. Use this shrub as a ground cover, border, or foundation plant for your garden.
WaxFlower
Waxflower is native to our Colorado landscape as it grows well in rocky soil with partial shade. This shrub requires more water than some of the others that we've mentioned, and it's essential that the soil has excellent drainage. Waxflower is very fragrant and is known for its clusters of white, waxy flowers that turn orange and pink in the fall. Allow our team of seasoned professionals to help you to choose the best shrubs for your landscape. Contact us at Lifescape to make your dream yard a reality.