It may come as some surprise to you that part of the reason you like eating outside is because it's also good for you! That's right — when the weather is nice, you can feast at a backyard picnic and experience health benefits at the same time. Some of our favorite memories are of family outings to the park with ducks quacking, sun rays shining, and baskets full of yummy food. So, if you're looking for more reasons to take your lunch break outside, here are just a few: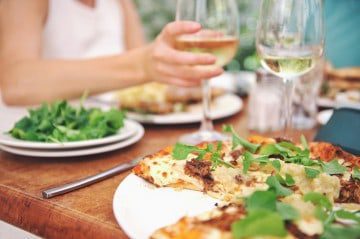 Get your fill of vitamin D. Vitamin D works wonders for the human body. It boosts the immune system, increases heart health, improves some skin conditions, and is said to help prevent bone diseases. You can find it in many foods and in sunlight! UVB radiation from the sun is converted into the vitamin by a form of cholesterol in your skin.
Lift your spirits. Ever heard of cabin fever? Studies show that people who live in areas with limited sunlight are more susceptible to mood disorders such as depression and anxiety. Spending even an hour outside can make a huge difference in maintaining a healthy mood, and our design professionals can help plan and construct an outdoor living area you'll love spending time in.
Boost concentration. Recent studies say children with attention disorders can experience increased focus if they spend plenty of time outside. To help persuade them to take their playtime in nature, you can devise kid-friendly areas like sand boxes and outdoor art easels.
Dining outside is something your whole family should be able to enjoy, and a great patio should be able to offer you the right setting to do so. For help updating or creating a wonderful, functional outdoor living area, contact Lifescape today.