Summer isn't quite the same without lounging for hours while the kids splash around in the pool or play outdoor games. Gardens are the perfect locations for easy outdoor games — little to no skill is needed, and games are a great way to gather the whole family for some fun in the sun. To help you properly welcome the summer season, we've put together a neat selection of outdoor games for your family and guests to enjoy: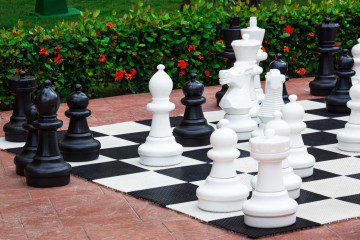 Lawn Chess. A larger version of the original board game, lawn chess is constructed by mowing squares onto the lawn or using plastic or wooden board pieces and markers. We love that chess encourages problem solving, strategy, and gamesmanship. So, put on your "thinking caps" and be prepared for some healthy competition!
Horseshoes. Horseshoes is an all-American classic that happens to be a fantastic workout. Players take turns throwing two horseshoes at a stake in the ground. The goal of the game is to get the horseshoes as close to the target as possible, even so that they completely encircle the stake (called "ringers"). Horseshoes is played on a court 46 feet long by 6 feet wide. However, if space is limited, the game will work with a much smaller court. The points system is simple — a shoe 6 inches or closer to the stake is 1 point, 2 points are scored if both shoes are closer to the stake than the opponents, and ringers are worth 3 points. The game continues until 40 points are scored.
Croquet. For croquet, all you'll need is a flat, closely-mown lawn area, a set of 6 cast iron hoops set in the ground, 4 balls, and mallets. The rules take a little getting used to, but once you get the hang of it, you can host a garden party and teach all your friends how to play!
If you're ready to make your outdoor spaces not only beautiful but functional as well, Lifescape offers the design and landscaping services to suit your needs and more. Contact us today to schedule a consultation.