Exactly what you see when you look at a stunning driveway relies on a balanced configuration of hardscapes and softscapes. It's simple, really — hardscapes consist of walls and fences, while softscapes revolve around shrubs, ground covers, ornamental trees, and flower beds. Together, these elements work to create an unforgettable first impression for visitors. But in addition to looking good, a driveway also needs to be functional and durable.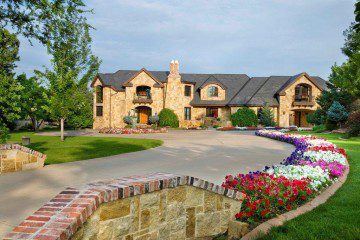 Hardscapes
Walls and fences greatly enhance the design possibilities for your driveway. Stone or brick walls can either run next to the driveway for its entire length or approach it perpendicularly at the entrance. Walls that meet at the entrance can be further elevated with an elegant arch or personalized gate.
Softscapes
Whether you're looking to accent your driveway's entrance, the length of the driveway itself, or both, softscapes can be used together with walls and fences to foster a focused and creative design. You must also consider where you intend a visitor to focus their attention and which focal points you'd like to incorporate.
If you'd like the focus to be on your property, line your driveway with colorful annuals to draw the eye inward. Or, if your landscape is dominated by straight lines, you might not want to showcase an even straighter driveway. Elements such as water features and garden arbors can be complimented by curved driveways lined by flower beds, shrubs, and ornamental trees.
While employing hardscapes and softscapes to enhance your driveway can increase the value and curb appeal of your home, we recommend exercising caution when it comes to landscaping your driveway's entrance. Flower beds placed dangerously close to the road can be trampled by feet or bike wheels, and well-kept shrubs and flowers have even been known to disappear over night. However, a driveway is a major component of your landscape, and the benefits are worth the risk and effort involved in its design and construction.
Have an idea for your driveway's design you're not quite sure how to implement? At Lifescape, landscape design and maintenance is our specialty. Contact us today to schedule a consultation.