Taking a second look at something that appears ordinary at first glance can lead to exciting new discoveries. Now that it's getting warmer, properly managing the water from summer showers is more important than ever. While many landscape architects do plan and build drainage ditches as dry creek beds, they often fall quite short as functional and beautiful elements.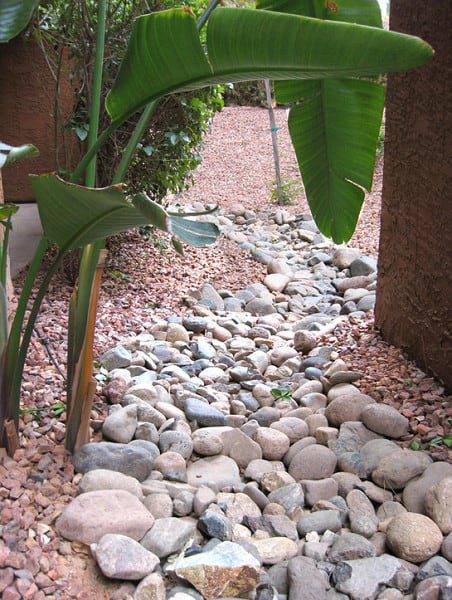 In many areas, too much water can have dangerous and unsightly consequences. As water runoff continues to disrupt our storm systems, it can ultimately lead to ocean pollution, land slides, and slope destabilization. So, instead of relinquishing control of what happens to your water, consider making a positive impact on the Colorado landscape with a visually appealing dry riverbed.
Use a dry riverbed as a fresh new focal point or within the existing landscape to strengthen its overall appearance. To make the riverbed design look great, make sure its shape and materials complement the style of both your house and property. For example, a contemporary home and landscape is best suited by straight and geometric lines, whereas a rustic or traditional look might go well with informal and natural curves.
Knowing how water moves around your property is an important early step in constructing a stellar dry riverbed — you'll want to make sure yours can properly funnel excess water. For a stone choice, we recommend keeping it local and choosing something indigenous to where you live. Once you've found the perfect shape and materials, the end result will be a realistic, artistic, and useful design element.
If your goal is to conserve water, you'll be celebrating in no time. A dry riverbed replaces turf, which in turn dramatically reduces the need for watering. The addition of a dry riverbed also brings a plethora of stimulating new elements to interest children and sustain their play for hours. These irresistible elements include insects and other wildlife, sand, mud, rocks, sticks, leaves, and plants.
If you're looking to take your landscape from drab to dynamic, contact Lifescape today. Our professionals are experts at landscape design and architecture, fine gardening, water management, and more.