The quaking aspen has bewildered landowners, horticulturists, and landscape architects for centuries. Quaking aspens are stunning trees often mistaken for birch trees due to their cream to white-colored trunks. But, they couldn't be more different. In fact, it's almost inappropriate to refer to them as trees at all. They are actually large, 1 to 20 acre root systems from which clusters of clones will quickly grow.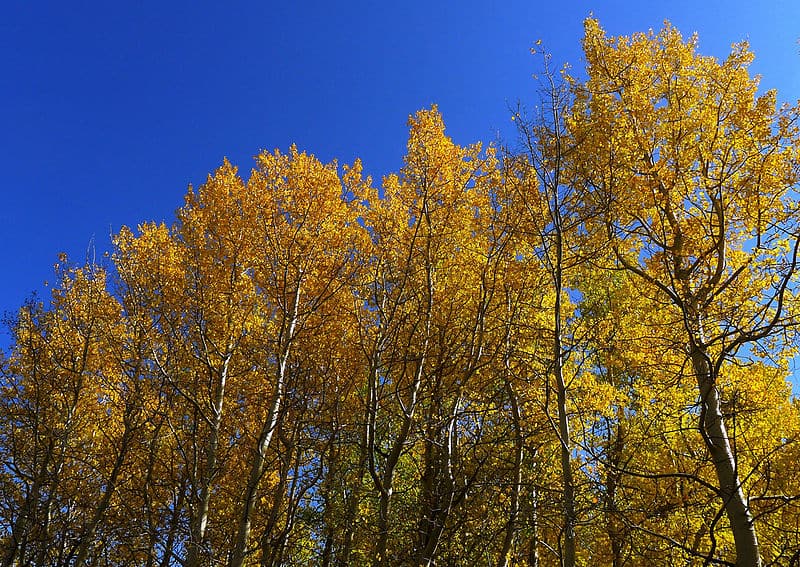 Quaking aspens grow natively in many areas of the country, namely in the Rocky Mountain area. They grow very quickly, provide a wonderful finishing touch to a suburban yard, and quiver delightfully in the breeze. Their leaves are charming — deep green in the summer months and brilliant gold in fall. Unfortunately, despite their lovely fall foliage color and other attributes, quaking aspens can be significantly problematic.
Aspens are the most common problem tree in the Colorado area, and yours are probably no different. Aspens are widely affected by an array of insects, diseases, and cultural problems that can cripple their growth and shorten their life spans. They reproduce through extensive suckering, which means suckers shoot of the roots of the mother trees. This habit can rapidly become a nuisance for homeowners and neighbors alike.
Aspens serve as "succession trees," and in the wild they will quickly seed in areas where other vegetation was lost as a result of logging, fire, disease, insects, or erosion. As other trees grow taller around them, the aspen clones will likely die out. Despite their negative reputation, aspens are remarkable trees with root systems that can live to be thousands of years old. They also provide survival food for deer and elk during the winter and encourage new growth after devastating forest fires.
If you already have quaking aspens on your property, we recommend routinely checking them for insects and diseases. They look best when combined with natural elements like boulders, ferns, and even wildflowers. Don't forget, you're growing a piece of American history when you grow a quaking aspen!
Need help sorting out what to do with your quaking aspens? Contact Lifescape today to schedule a consultation.