Just like indoor spaces, outdoor spaces also need walls. Whether those walls are made with wood, rock, or even just shrubs or trees, walls help add privacy, style, and structure to landscapes.
Solid rock walls are particularly popular for Colorado landscapes. Here are some ideas for creating a stylish landscape using rock walls:
A rock wall can be so much more than just a divider. We like the idea of using a curved rock wall as the base for a practical seating area that faces a fire pit, for example.
If you have a large lawn, a long rock wall can help break it up and create a border for a patio or planting bed.
A low rock wall can be used as a charming fence around a small enclosed living area or to divide up a large patio into separate living areas.
How about incorporating a fountain in your rock wall? This gives a formal and elegant look to your landscape while making use of space.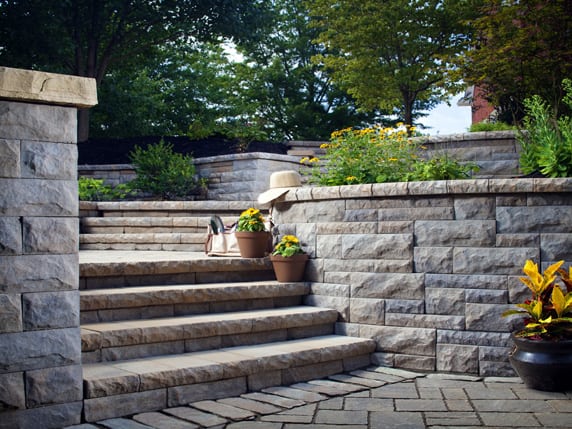 Of course, rock walls can also aid in adding a level living or gardening space on hilly terrain as well. Terraces work well for especially steep landscapes, while retaining walls are suitable for gentler hills.
Your rock walls will have a different look depending on what type of rock is selected as well as what size rock you choose. Larger rocks make more of a statement and can add that rustic vibe you are looking for. You can mix and match wall rocks with other rocks in the landscape such as gravel paths or patios, too.
What rock wall application best suits your yard? Let us know by leaving a comment.