Summer seems to keep getting hotter, and having a pool is a wonderful way to cool down quickly. In some cases, however, a pool doesn't seem to fit in with the landscaping you had done to beautify your backyard. It does not have to stand alone as a feature of your design; landscaping with pools can open up a whole new world of possibilities.
To create a natural-looking haven surrounding your pool, you want to consider adding texture and variation with plants and trees. Using tall trees at the end and graduating to shrubs and plants surrounding your pool can create a feeling of privacy and relaxation. With this simplistic design-style, you can have a more formal look by using muted colors and repetition of shrubs, trees, and plants or more casual by adding pops of color with brightly colored plants interspersed throughout.
If you prefer the pool to completely blend into your surroundings, especially in a xeriscaped yard, consider a mix of hardscaping and naturally-occurring plants such as those used in your original design. Mix and match shrubs and plants to create the most natural appearance, and consider clumps of ornamental grasses and natural colors of stone to complete the look.
For a formal, meditative feel, you can use sculpture in your pool landscaping design. Create a backdrop to showcase the sculptures using straight rows of hedges or straight lines with classic paving tiles. To keep the look tranquil and formal, stick to muted shades for hardscaping and like colors for any plantings.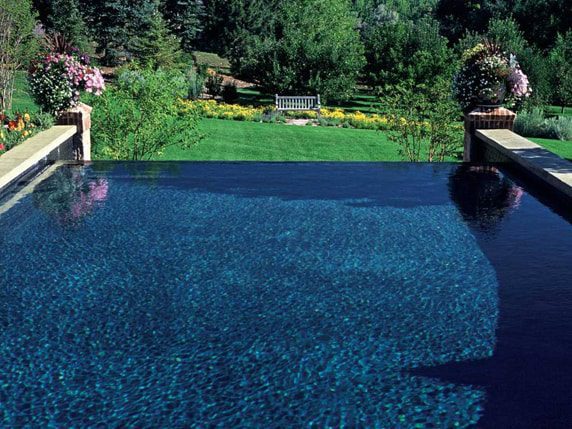 Privacy fencing is often desirable when planning your pool's surroundings. Rather than opting for fencing or walls, why not consider growing your own? Privacy can be created by standalone trees and shrubs, a mix of hardscaping materials and plants or even with a trellis combined with climbing plants. All you have to do is decide which style appeals to you most.
Lifescape can help you with unique ideas for landscaping with pools. Visit our online gallery for more inspiration and contact us to create your ideal pool setting.