Whether you are designing a new landscape or just looking for a way to spruce up your existing yard, landscape lighting is a feature you should consider. While it is easy to think of what your yard looks like during the day, nighttime offers a wealth of creativity when it comes to lighting your landscape. You will want to focus on highlighting important features of your landscape as well as providing lighting for safety and security.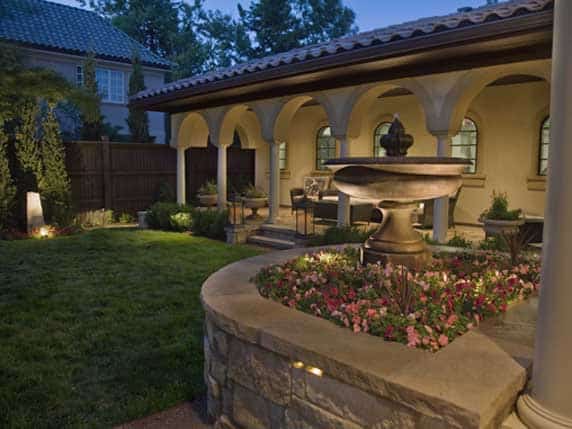 Lighting can be applied to any features you want to draw attention to in your yard. Simply installing uplights underneath a large mature tree on your property can create a really neat effect at night. In the same way, adding lights inside or along a water feature creates instant drama. You can even choose white or colored lights for different effects. Lighting a sculpture in your yard is another obvious point of interest, not to mention your home and any unique architectural features.
Consider lighting unexpected parts of your landscape, such as under a bench. The diffused light will softly illuminate the area and create ambiance around the seating area. Another surprise could be adding a strip of lights around tree wells, which creates a unique geometric effect. Some other artistic effects you can create with light are backlighting, which silhouettes an interesting object, as well as reflecting light, which creates a romantic glow.
Fireplaces and fire pits are also types of lighting you may want to add, as they offer a spot to gather, create ambiance and warmth, and can be used for cooking.
And, of course, you should be sure to light up all pathways, entryways, stairs, and rails. This not only brings out all the important points on your property at night, but it also provides safety. LED lighting can be used to boost energy efficiency for these frequently used lights.
Depending on the size and complexity of your project, you may need to consult with a company that does professional landscape lighting, such as Lifescape. Contact us today to get started on your project.