With today's busy lifestyles, who has the time to do hours of landscape maintenance? And with Colorado drought restrictions, as well as concerns about the environmental impact of traditional landscaping, many homeowners are looking for grass-free landscape ideas.
Grass-free landscapes decrease maintenance while still making your yard look beautiful. Plus, they can be better for the environment because they tend to require less water, pesticides, etc.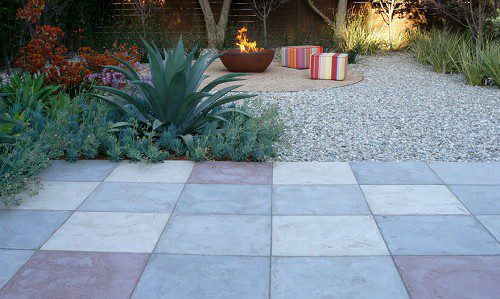 Stone, gravel, and native plantings are all great options for grass-free landscapes, according to Houzz. The article goes on to say that simply placing young trees in proper locations will enable them to extract groundwater easier, which will decrease the need for watering and create needed shade in your yard.
To add in some texture without resorting to using grass, fill in gaps between pavers with groundcover plants. In the same way, you can add lush vertical plantings by selecting climbing vines and flowers.
If you have a large area to cover, you might consider planting a meadow of native flowers and plants that require little watering and avoid the need for grass.
Different-sized pavers can be used to create outdoor rooms, and they can be arranged in all different ways for unique looks such as scattered, symmetrical, and more.
When using stone and gravel, you can pair different colors and textures to create visual interest. Large stones and boulders can be used to add definition or even create a maze designed for meditation.
Of course, raised bed gardens are a great way to not only create a grass-free landscape, but also grow your own vegetables and herbs, which can be used for cooking.
Need some more design ideas for your grass-free landscape? Check out these inspiring yards courtesy of Sunset. The slideshow demonstrates how you can build a patio garden around a mature tree, arrange large pavers with drought-tolerant grasses and young trees, select the right combination of plants to add curb appeal, and more.
For help with your own grass-free landscape, contact Lifescape.