Smaller yards are coming back in vogue due to people living in denser neighborhoods and desiring to minimize landscape maintenance. Let's say you want to exercise your green thumb this spring, but you don't have a lot of space. Consider vertical gardens to take advantage of unused space and give your landscape an elegant look.
A popular vertical gardening strategy is known as espaliering, which means "to train trees, shrubs, and vines on a frame, so they grow into a flat plane," according to Houzz. This is commonly seen as grapevines growing over an arbor, but there are many other plants you can use and ways you can train them to spread. Some ideas include:
Informal espaliers.
Informal espaliers allow plants, such as bougainvillea, to grow in a free form pattern. These should be placed at eye level for greatest effect. A great example of an informal espalier is when vines are trained to grow along the cracks of a stone wall.
Formal espaliers.
Unlike informal espaliers, formal espaliers have a very defined shape and direction. Popular patterns include single branch, u-shaped, tiers, fences and fan shapes.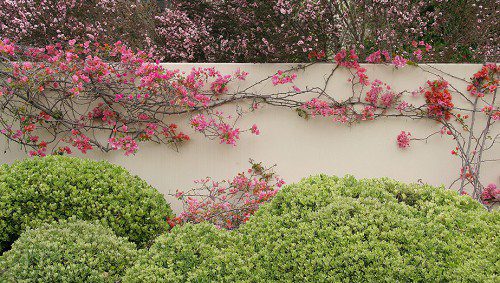 Privacy screens.
These espaliers not only look good and are easy to construct, but they also provide privacy, which can be an issue in suburban and urban environments.
Dramatic backdrops.
This type of espalier is a great way to soften a large wall in your garden or even a wall of your home. The plant is trained to grow along the wall, resulting in a mass of leaves and foliage covering the area, which creates a dramatic look.
Many plants can be espaliered, including seasonal vegetables, fruit trees, evergreens, perennial vines, berries, and more. What sorts of plants would you like to espalier in your yard? Let us know by leaving a comment.