An open-air room allows you to bask in beautiful weather while relaxing and entertaining as if you were in the comfort of your home. Designing an outdoor room is much like designing any other space of the home, except the inspiration and backdrop is your landscape.
Here are some inspiring design ideas for creating delightful outdoor rooms that are just as aesthetically pleasing as they are comfortable and convenient.
A custom stone slab waterfall and a stunning stone fire pit make for a uniquely beautiful outdoor room. Built-in wooden benches make it easy to get cozy with friends and family by the fire.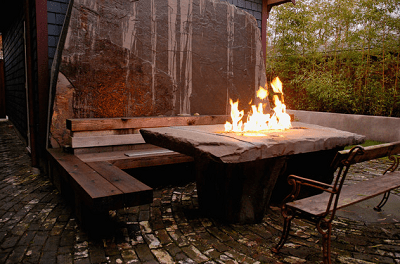 This picturesque hardscape design features a patio, chimney fireplace, and tiered retaining walls that create privacy while offering opportunities to bring colorful plantings upwards.
A creative lighting scheme that includes underlighting beneath built-in benches gently illuminate an outdoor dining room to set the mood with a gorgeous glowing ambiance.
A covered porch creates a 4-season space that allows you to feel comfortably protected while in nature. This transitional eclectic covered porch brings style, entertainment, and great views of the surrounding landscape all under one roof.
A water feature or outdoor sound system can be used to produce a pleasant auditory experience that adds to the environment and masks traffic or other unsettling sounds.
A little running water makes an elegant outdoor room all the more charming and enjoyable, while in another example, a creative water feature doubles as a concrete dining table.
Outdoor rooms are not only for homeowners with big backyards. This rooftop retreat is a prime example of the outdoor room design possibilities for urban abodes. Plenty of plants and warm wood create a space that combines the serenity of nature with fantastic cityscape views.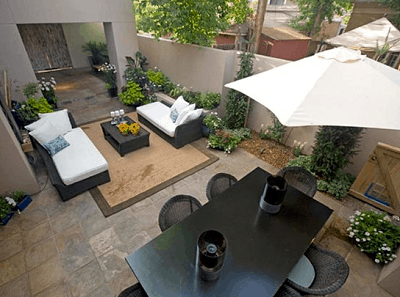 With winter waning and spring on its way, it's a wonderful time to think about how hard your yard is working for you. Our team here at Lifescape would love to help extend your living space beyond the walls of your home with a smart and chic outdoor room design. Contact Lifescape in Colorado to learn more about our services.