It's hard to imagine a sunny garden scene without the ephemeral flutter of butterfly wings. In fact, it's impossible. Without butterflies, which are very important pollinators, many of our favorite blooms would never grow in the first place.
Introduce Plants and Flowers That Attract Butterflies & Other Pollinators
The benefit of adding butterfly-friendly plants is that you will also attract a host of other pollinators, including honey bees, bumble bees, and birds. It transforms your garden into a veritable playground for winged creatures, and you and your guests will delight in the additions.
Keep in mind that butterflies prefer a break from the wind and open, sunny spaces so creating these environments will also help to attract them. Organic gardening practices are also very important since insecticides kill pollinators.
Here are suggestions for plants and flowers that attract butterflies and do well in our Rocky Mountain climate.
Asters (Asters, spp.) . These cheerful flowers are in the same family as sun flowers or daisies. They bloom towards the end of summer and well into fall, which make them an attractive candidate for gardeners who want to add a bit of interest when other blooms are beginning to fade. They are drought-tolerant and prefer sandy, well-draining soil – another boon for our area.
Butterfly bush (Buddleia davidii).  Every yard is enhanced by this robust species of plant that blooms with white to purple flowers. They grow six to 15-feet tall and can withstand temperatures below 20° F. Butterfly bush also remains evergreen during the winter months, which is another bonus.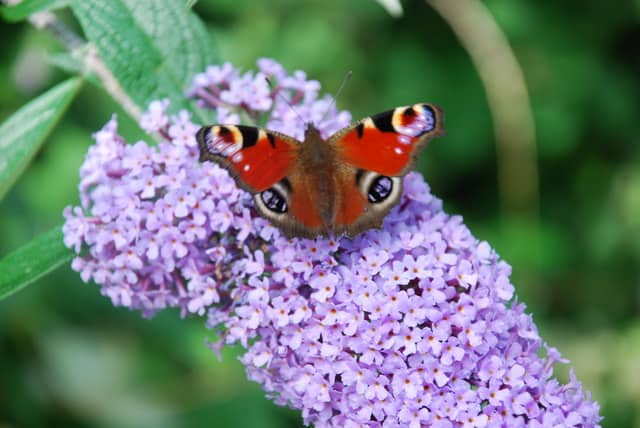 Rabbitbrush (Chrysothamnus nauseosus). Those interested in a Xeriscape may recognize this plant species. Rabbitbrush grows wild throughout Colorado and much of the Southwest. A desert and high-desert plant, it is decidedly drought-tolerant.
Milkweed (Asclepias syriaca). This is another native Colorado plant and it serves a very important role; Milkweed is a host for Monarch butterfly larvae. These are an endangered species, so adding milkweed to your garden is a wonderful way to support their comeback.
Other plants that attract butterflies, hummingbirds and bees include Culver's root, blue sage, bee balm, and purple prairie clover.
Contact Lifescape Colorado to design a landscape that includes the plants, flowers, and other landscape features that attract butterflies.