When you think of attractive landscape structures, odds are you envision gazebos, fountains, fireplaces and other hardscape designs found most typically in a backyard. Your front yard, however, may also be begging for a little structural attention and curb appeal.
5 Ideas For Creating a Gorgeous Front Yard This Spring
Creating a gorgeous front yard is always a good idea, whether you are planning to sell your home in the near future or are simply ready for a front yard facelift.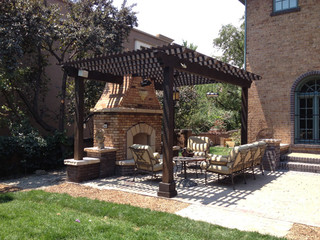 Show off your blooms. A beautiful arbor, draped with spring's bountiful blooms, is an iconic garden visual. Arbors and pergolas can also make a wonderful entrance to your home, focusing your guests' attention on landscape highlights, the walkway, and the front door. Combined with a fence, they can also create a sense of privacy and mystery.
Demonstrate your artistic side. Lawn art is often confused with tacky gnomes and ceramic deer when, in fact, high-quality garden sculptures can create focal points that catch and surprise the eye. Invest in a local artist, and add a new piece of sculpture to your front yard.
Optimize the corners. Cut out the corners of your lawn (hooray for water conservation!) and plant them with drought-tolerant plants and shrubs that will provide colorful interest year-round.
Install a water feature. Those corners you just cut out are also a great place to install a water feature. It will help to mask traffic or neighbor noise and is attractive to passersby, porch sitters, and bathing birds alike.
Update your front yard lighting. Does your front yard lighting consist of a porch light or a few flood lights? Start thinking more holistically, and add front yard lighting for both safety and ambiance. Choose welcoming lights for your porch, entrance way, and to light the path(s). Consider uplighting to highlight a tree or two, the aforementioned art or sculpture or to illuminate your newly installed fountain.
Are you ready add a new structure or two to your front yard? The team at Lifescape is ready to design, build and maintain a front yard that heartily welcomes spring.