Not only do lawns drink a lot of water, they are high-maintenance and don't always mix well with the hot and dry Colorado summers. But fortunately, there are many beautiful lawn alternatives that are also drought tolerant.
Cara panza or UC Verde gives you the look of a beautiful lawn without the hassle and extravagant amounts of water. These tough groundcovers are drought-resistant and do not need to be mowed once they are established, unless you want a turf-like look.
Here are some other groundcovers that look great and require little water and maintenance.
Carex glauca – Carex glauca is a thin-bladed, grey-green groundcover that is grows well even in tough, dry conditions. When left on its own, it offers a lush, soft field of natural beauty.
Lilyturf – Beautiful green and grass-like, lilyturf sends out runners to spread quickly over an area. While this groundcover's lumpy growth pattern makes it unsuitable for foot traffic, it works well to guard against soil erosion on steep landscapes.
Clover – Clover is an excellent water-wise lawn alternative. It can be planted and then pretty much left alone. Clover holds its color through all seasons and, although it is too delicate for pet or children's play areas, it handles gentle foot traffic well.
Dymondia – This green and silver-bladed groundcover requires no mowing and is drought-tolerant after it is established. The interesting leaves make it a good choice for landscape areas where you are looking to add a little drama. It can be damaged when walked on, however, and so should be planted in low-traffic areas only.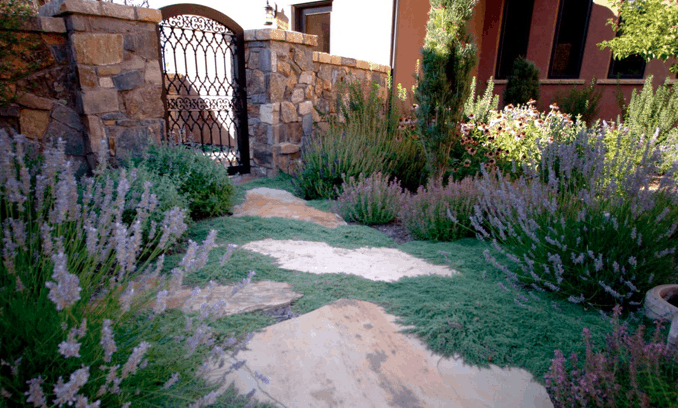 Native meadow plants and ornamental grasses are also wonderful water-wise lawn alternatives. Bluestem grasses and flowering plants such as wild bergamot add fantastic color and interest to Colorado landscapes. Native plants and drought-resistant ornamental grasses such as these are also easy to incorporate around hardscape designs to add lushness and break up the monotony.
From landscape design to landscape maintenance, Lifescape can help you achieve a beautiful lawn-less landscape that's sustainable and drought-friendly. Contact Lifescape to learn about our extensive range of landscaping services.