Growing native plants in your Colorado garden not only adds color to your landscape design, but also benefits and contributes to the biodiversity of our beautiful state. While landscaping with a native shrub seems like a small way to aid the environment, other projects that do not include these wonderful plants can harm biodiversity.
Shrubs native to Colorado have an advantage over other species because they're already adapted to our state's unique climate. Great for both home and commercial gardens, native shrubs are valuable additions to any sustainable landscape design.
Native shrubs are also easier to manage than nonnative plants. Because native shrubs are acclimated to Colorado's environmental conditions, most species require less watering, pruning and fertilizing. Since your Colorado garden is the perfect environment for growing native shrubs, you'll find that these plants will prosper with little assistance.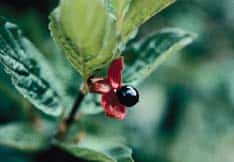 While plant-life is an important component of any lively landscape, wildlife is just as significant. An attractive and healthy garden draws a variety of animals, birds and fluttering insects like butterflies. As a result, a Colorado landscape featuring native shrubs will attract more hummingbirds than a garden without these helpful and appealing plants.
With all of these added benefits, your native garden will have a stronger visual impact on visitors and neighbors alike. A bright and welcoming palette of red and yellow can be achieved by growing black twinberries and delicate golden currants. These small- to medium-sized shrubs bear ripe fruits that are both edible and showy.
As your garden continues to grow and prosper, you'll want to make sure your Colorado landscape is benefiting the environment. Sustainability is important to keep in mind while designing gardens, front yards and creative landscaping projects. Construct your dream landscape by contacting Lifescape Colorado. We offer many types of services that are both green and sustainable.