Just as a landscape needs a variety of textures, so too does the miniature landscape of a container plant.
Novice gardeners sometimes try to avoid a boring container design by using a multitude of colors, but this approach can easily backfire. Without accompanying contrasts in texture, a container can appear as if plants were randomly thrown together.
Contrasting textures becomes even more important when you are using similar flowers or foliage colors. Without texture differences, the plants visually meld together in an uninteresting clump.
This does not mean that you cannot combine different flowers. Texture is not confined to foliage. Size, shape and surface of flowers can differ, too, and keeping these in mind when choosing flowers can help you create a gorgeous combination of colors and textures.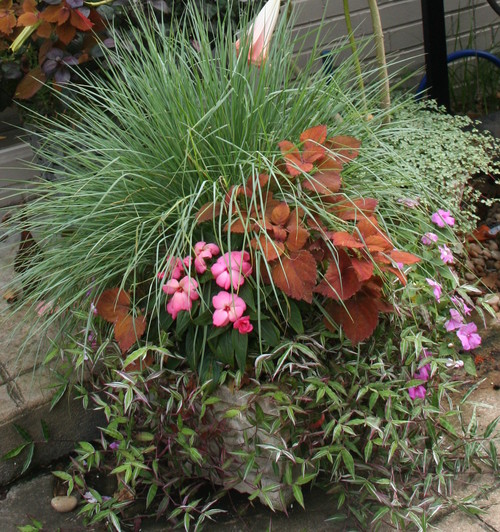 Likewise, you can use similar types of non-flowering plants with equally stunning results. Most conifers, for example, look similar as they are evergreen trees or shrubs. However, they vary enough in hue, needle size and shape to look interesting together. Dwarf varieties grow well in containers and by planting several conifer types together, you can create your own miniature forest, like in this beautiful example.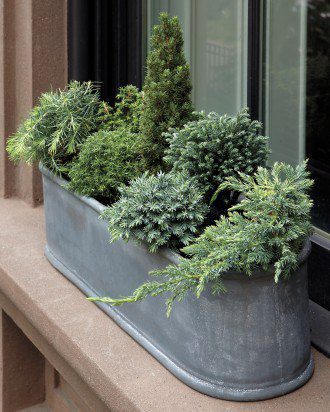 Texture as a design term implies both sight and touch. Incorporating plants that appeal to both senses, respectively, works well in a container arrangement. Consider a container holding a plant with boldly shaped or colored leaves/flowers, which are surrounded by fuzzy-leaf plants or soft ferns. This is one example of blending visual texture with tactile texture.
Since cooler weather will soon be approaching, it's a great time to consider how you will keep your landscape and home beautiful and interesting. One great part about planting in containers is that when freezing temperatures loom, you can simply bring these potted plants inside. Lifescape Colorado can help you achieve beautiful container plants you can enjoy throughout the entire winter season. Contact us today!