When imagining a drought-tolerant landscape, many people do not picture ferns. There is also a myth that you cannot grow ferns out west. However, you can indeed grow ferns in the west and several types do fine with little watering. Here are few of the low-water ferns that can grow in Colorado.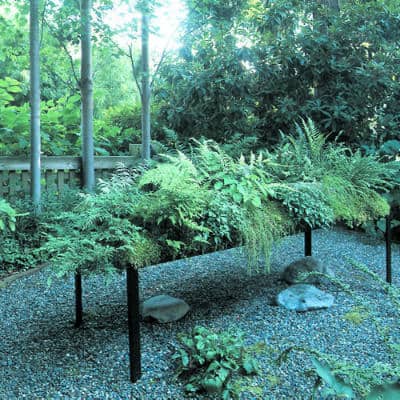 Autumn fern: Found in woodlands and forests, it grows to two feet and boasts interesting colors. Fronds are multi-colored in spring, with hues of pink, copper and yellow, which turn green in summer. In autumn, rusty brown replaces the green and red spores appear on the undersides in winter.
Giant chain fern: A very tall fern in its natural habitat, it will grow up to six feet high in a cultivated landscape. This is an excellent fern for creating natural dividers or any space that could benefit from height.
Western sword fern: Western sword grows its tallest in moist years, but can still handle dry times. It is native to western forests and can add a woodsy feel to the landscape.
Colorado male fern: This low-maintenance fern grows up to three feet high in optimal conditions of shade and moist, fertile soil. It can handle some sunlight, but to avoid extra watering, consider a shady area first.
Long Ear Holly fern: An evergreen fern that adds a touch of green to the landscape through all seasons, the Long Ear Holly is not only drought-tolerant, it also handles freezing temperatures. Grow several together for a wonderful cluster of shiny green fronds.
Many ferns enjoy moist soil, but that does not mean they like soggy, muddy soil. Whether they are grown in a container or directly in the ground, the best soil is rich but well-drained. Most ferns also prefer indirect sunlight or shade to full sunlight, and this should always be considered when using these in a landscape design.
Interested in a drought-tolerant landscape? The landscaping professionals at Lifescape Colorado can assist you in choosing the best low-water plants and designing a landscape that is beautiful while also water-wise and low maintenance. Contact us to discover more about our services.