Since the driveway is one of the first features experienced when entering the property, why not make it an enjoyable experience? A beautiful driveway design can set the tone for the rest of the home and property, making a a wonderful first impression. Here are some design tips for transforming a driveway into a beautiful and welcoming feature of the landscape.
Instead of a lawn, turn the front yard next to the driveway into a tall, lush garden. Plants that blend multiple colors, textures and heights will ensure vibrancy and variety.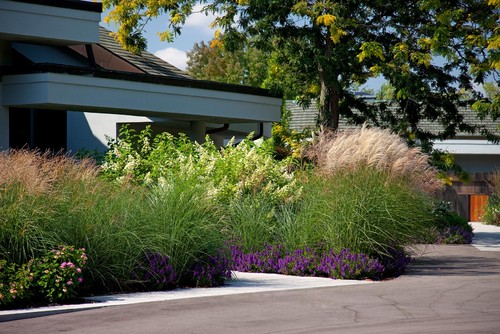 If the driveway curves around to the front of the house, a defined island of greenery in the middle of the yard can become a canvas for an interesting garden design that creates a focal point while also hiding the driveway.
Good landscape design requires a degree of cohesion so that it does not appear haphazard. But this does not mean the landscape has to be completely uniform. Plus, it's difficult to use the same type of plants across the whole property as Colorado landscapes often contain several microclimates. The front yard may receive full sun while the backyard may receive mostly shade, for example. Despite this, cohesiveness in the general feel can be achieved by coordinating colors and heights.
In our region, if you want a landscape that will remain interesting year-round, it must be designed to be water-wise. A drought-tolerant landscape design around the driveway can be achieved by using native groundcovers and/or decorative natural stone instead of grass. Drought tolerant plants such as yuccas and cacti can also be planted to line the driveway, adding texture and height. Finally, flowers native to Colorado can be mixed in to add splashes of color.
If you are ready to transform your front yard to achieve a beautiful landscape from the start of your driveway to your front door, contact the landscape design professionals at Lifescape.