As spring approaches, it's time to start planning for your spring irrigation turn-on. We usually start scheduling turn-ons to begin at the end of March and wrap them up toward the end of April, so now's the time to call Lifescape to schedule a time for one of our professionals to come turn your irrigation system on.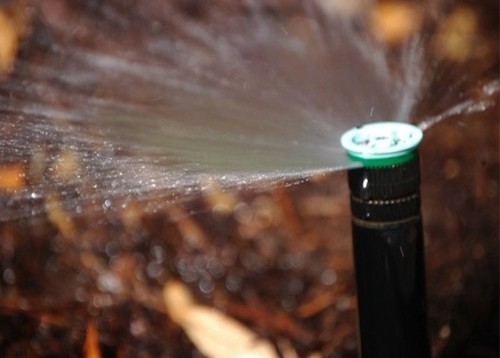 While it is tempting to start up your system right away, it's definitely not advisable. Even with our drier than normal winter, the cold winter temperatures could have damaged parts of your irrigation system lying beneath the surface. Pipes can crack, for example, as a result of low temperatures. Turning your system on full-blast right away can also cause an issue called water hammer, which is caused by a surge of water rushing into an empty pipe without proper time for the air in the pipe to escape. Water hammer causes an unpleasant knocking sound, and in some cases, can damage or even burst fittings and other parts of the irrigation system due to intense pressure.
Scenarios like the ones described above are why it is so important to have a landscaping professional to inspect your irrigation system before it is turned on for spring. Lifescape's professionals will inspect your system for any damage and make repairs as needed so that your irrigation system runs efficiently throughout the driest months of the year.
We also encourage our clients to take a look at our Landscape & Sprinkler Care Guide for weekly, monthly, and yearly maintenance procedures. Following through with these recommended inspections can help you detect a problem in its earliest stages and allows you to seek assistance from a trained professional before the problem worsens.
Call Lifescape today at 303-831-8310 to schedule your irrigation system spring turn-on. For more information about our irrigation system services, please visit our website.
Image from Houzz