Trend Watch: Yard-To-Table Landscaping
We've all heard the term "farm-to-table." It's been a rising movement for many years in culinary and agricultural circles. You've probably dined at eateries that tout their farm-to-table philosophy of sourcing ingredients locally through area farms rather than distributors. It's a simple way to be conscientious of how our lifestyles impact our land and environment.
But did you know you can take that movement home? You don't have to pay a fortune at a five-star restaurant to know where your food comes from; instead, you can grow it yourself. Yes, we're talking edible gardens—on a smaller scale, of course, than an entire farm. At Lifescape, we like to call it "yard-to-table" landscaping, or the incorporation of vegetables, fruits, herbs, and even food-producing animals like ducks and chickens into a home's outdoor space.
Despite the apparent benefits of having an ever-ready supply of fresh-grown rosemary or zucchini within arm's reach of the grill or kitchen, edible gardens still tend to get relegated to the forgotten back corner of the yard due to their perceived unsightliness. "An edible garden does not have to be unattractive," says Landscape Designer Frank Pendrell, "especially with ornamental varieties of most plants. 'Edible' doesn't have to mean 'wild'; it can mean formal and beautiful. The idea of what an edible landscape looks like has changed with the rise of outdoor kitchens, along with the ethos to create and use food on site."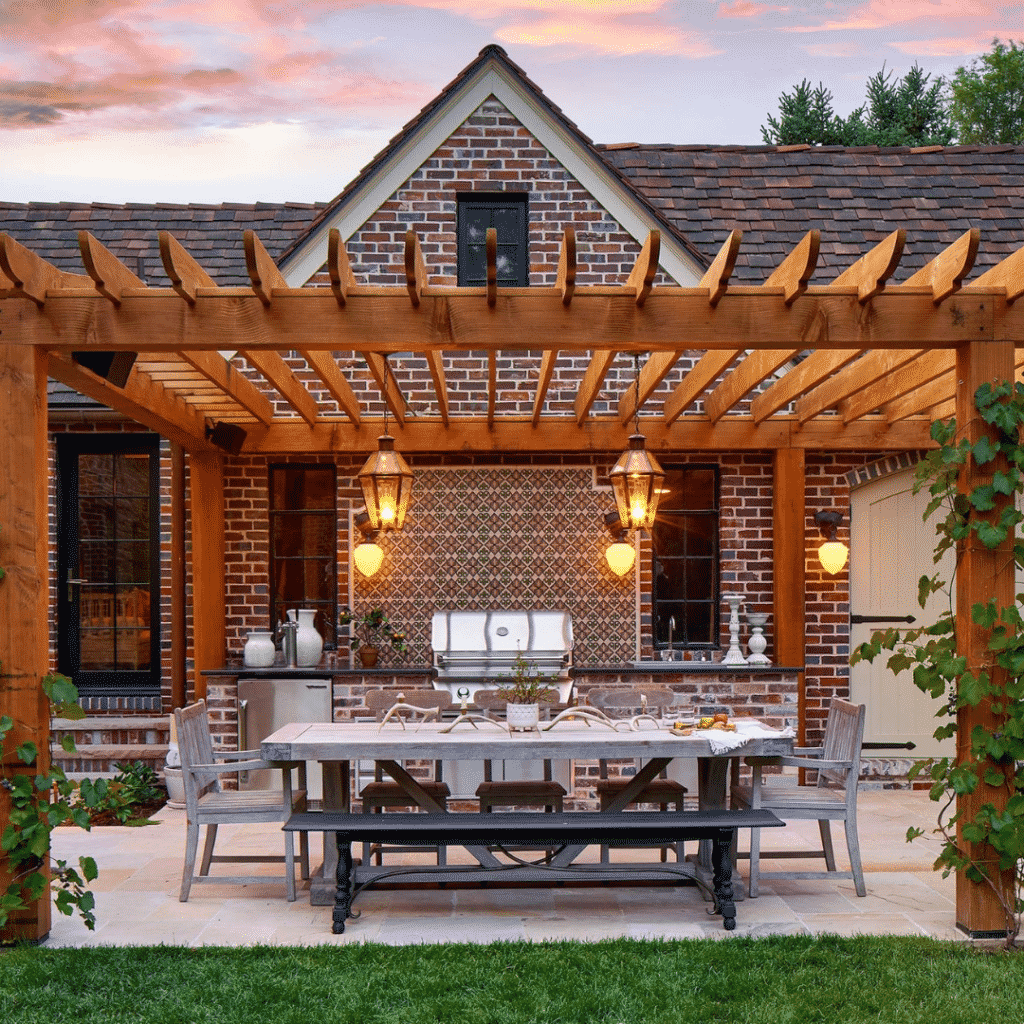 In other words: Gone are the days when a scraggly vegetable patch was the blemish on a manicured landscape. Lifescape helps clients weave aesthetically pleasing edible plants into all parts of the outdoor living space as an integral part of the landscape rather than an afterthought. "If you're a person who wants to produce an edible landscape but doesn't know how to make it beautiful, that's where Lifescape comes in," Pendrell says. "It's not an either/or situation. We have the high-level design ability to make it both."
Here are four guidelines Lifescape follows to help clients create a true yard-to-table landscape:
Purpose.

"The first thing I ask as a designer: What do you like to eat?" Pendrell says. "Why do you want to grow your own food? Maybe they're Italian, and they love making a Sunday sauce. Well, then, we'll need lots of tomatoes."

Location: 

"It's all about keeping those edible gardens accessible to the location of your kitchen doors," Pendrell says. "If you put your veggies in the back corner of the yard, you're not going to use them as much as having an herb garden where you can just pop open a window and grab some basil." Another point to consider: Is gardening a social activity you might enjoy in your front yard (Pendrell likens it to a Victory Garden concept from World War II, especially during the pandemic)?

Form: 

Square footage—and, again, your lifestyle needs—often determine what type of edible landscape you install. Classic outdoor beds? Border garden of tomatoes against the house? A small greenhouse? Chicken coop? Planters for herbs around your patio seating area? 

Bonus benefits: 

Planting a variety of edible plants will attract an array of pollinators, which are superb for regenerating plant growth and helping with pest control. "It's really about regenerating the land we build on," Pendrell says. "Making things better than they were. We're pushing the boundaries of sustainability. We're going beyond sustainability into something that's adding value back into the land."  
Connect with our experts today here to learn more about yard-to-table landscaping.