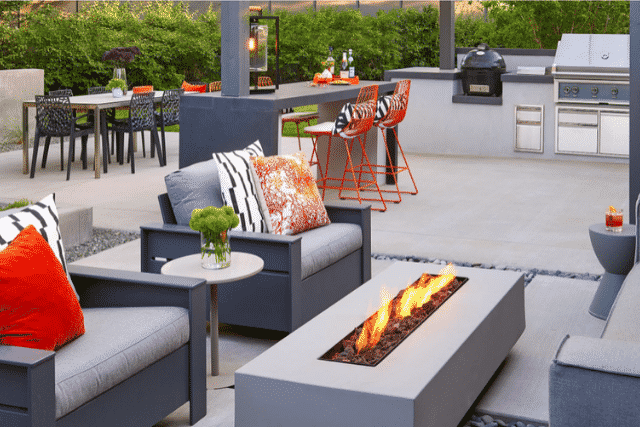 Outdoor kitchens and dining areas are a way to not only cook and enjoy a meal in the open air but also a way to experience the landscape. The concept of outdoor cooking and dining is not new, but the sophistication and style are far into the future, thanks to new trends.
These days, outdoor kitchens have surpassed a simple grill on your back patio. Of course, these spaces can be as simple as a grill and countertop, but with the latest technology, we can now create a full-blown kitchen inspired by its interior counterpart—and then some. 
Lifescape Designers Todd Diesburg and Vejay Bala share tenured insight on the top trends they're incorporating into clients' outdoor dining experiences.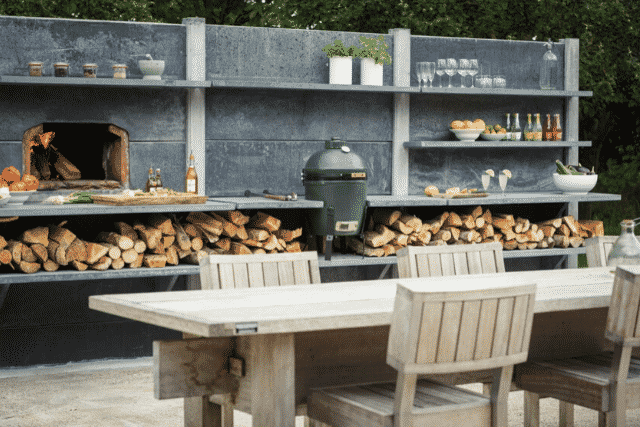 Modular, Customizable Shelving Systems
Shelving systems are adopting a Lego-like approach with new modular styles that are especially fitting for modern homes. 
"Modular shelving systems can be built around the kitchen itself, and they add quite a bit of functionality and customizable options," says Landscape Designer Vejay Bala. 
One benefit of modular systems is the ability to design around the available outdoor space and still provide ample storage space to limit trips inside. Setting the outdoor dining table is a breeze with these functional-yet-fashionable shelving solutions.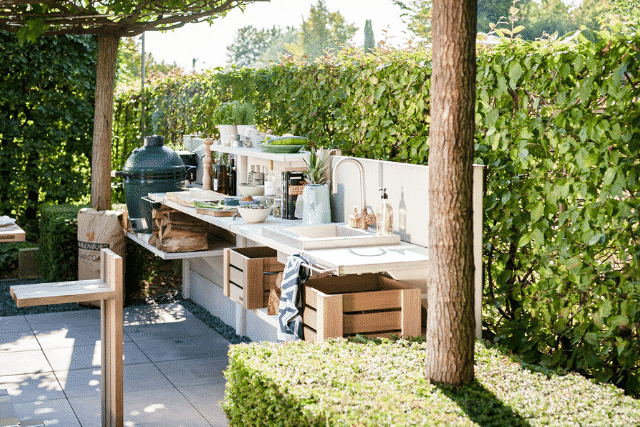 Getting Away From Gas Powered Grills
Smokers—like Big Green Egg and Traegers—are a hot commodity for barbecue enthusiasts. Smokers are a great example of how outdoor kitchens amplify cooking experiences. Anything that can be done inside can be done outside, but not everything outside can be done indoors. 
"Our process starts with asking clients what their wishes are and what kind of appliances they want out there, and we build around that," says Senior Designer Todd Diesburg. "More clients are requesting smokers, which becomes an added feature to their home."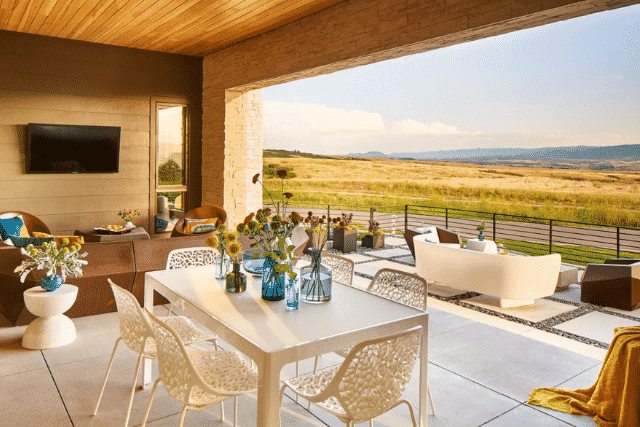 Garden to Table
Since the spring Covid shutdown, many of our clients have started to reevaluate their exterior spaces. Outdoor living is not just for entertaining al fresco. It's a way to provide sustenance, which is why vegetable gardens are all the rage this year. You can skip the grocery store, and fresh produce is homegrown right in your backyard. 
"I love seeing people engage in their own landscape and get more out of it," says Bala.  
This redefines farm to table to garden to table. The beauty of a backyard garden is the tie to the outdoor kitchen and dining area. Grow what you like to cook and eat, whether it's Italian food (think eggplant, tomatoes, basil, parsley), Mexican food (bell peppers, cilantro, onion, jalapeno) or Thai cuisine (zucchini, carrots, Thai basil).  
Regardless of the new up-and-coming trends, outdoor kitchen and dining areas remain timeless. Now more than ever, whatever you can dream up is on the menu. Contact the outdoor design experts at Lifescape to get started!
Whatever your budget, vision or timeline, Lifescape Colorado is here to help. For more than 44 years, we have been Colorado's trusted source for landscape architecture, construction and property care. Contact us today at (303) 831-8310 or info@lifescapecolorado.com for a complimentary consultation.