While a small outdoor space may feel limiting at first, it doesn't have to be. In fact, some of the most desirable outdoor living spaces have been created with limited areas.
This blog discusses 20 outdoor space design ideas. It also discusses how to plan the furniture for your outdoor space and a few features you should consider in your small outdoor space. As you plan your landscape for the spring season, we encourage you to keep the following things in mind:
Lifescape Colorado is Colorado's premier landscape and architecture design firm. We use streamlined planning and execution, comprehensive property care, and innovative ideas that adapt spaces of all kinds. We strive to make every one of our client's projects a design of the future and can't wait to bring your design dreams to life.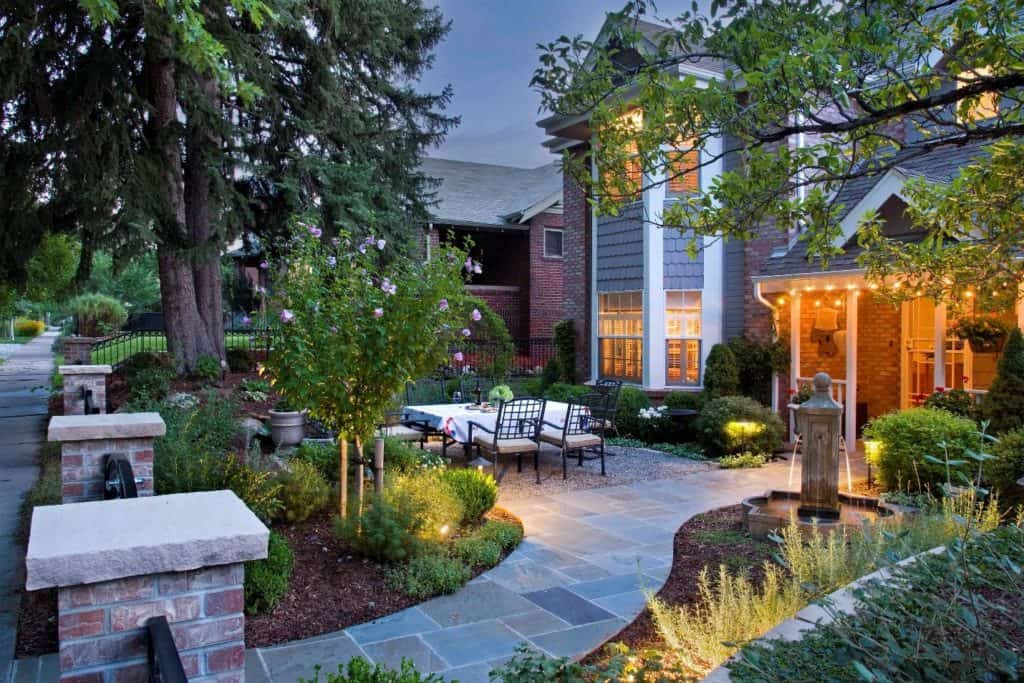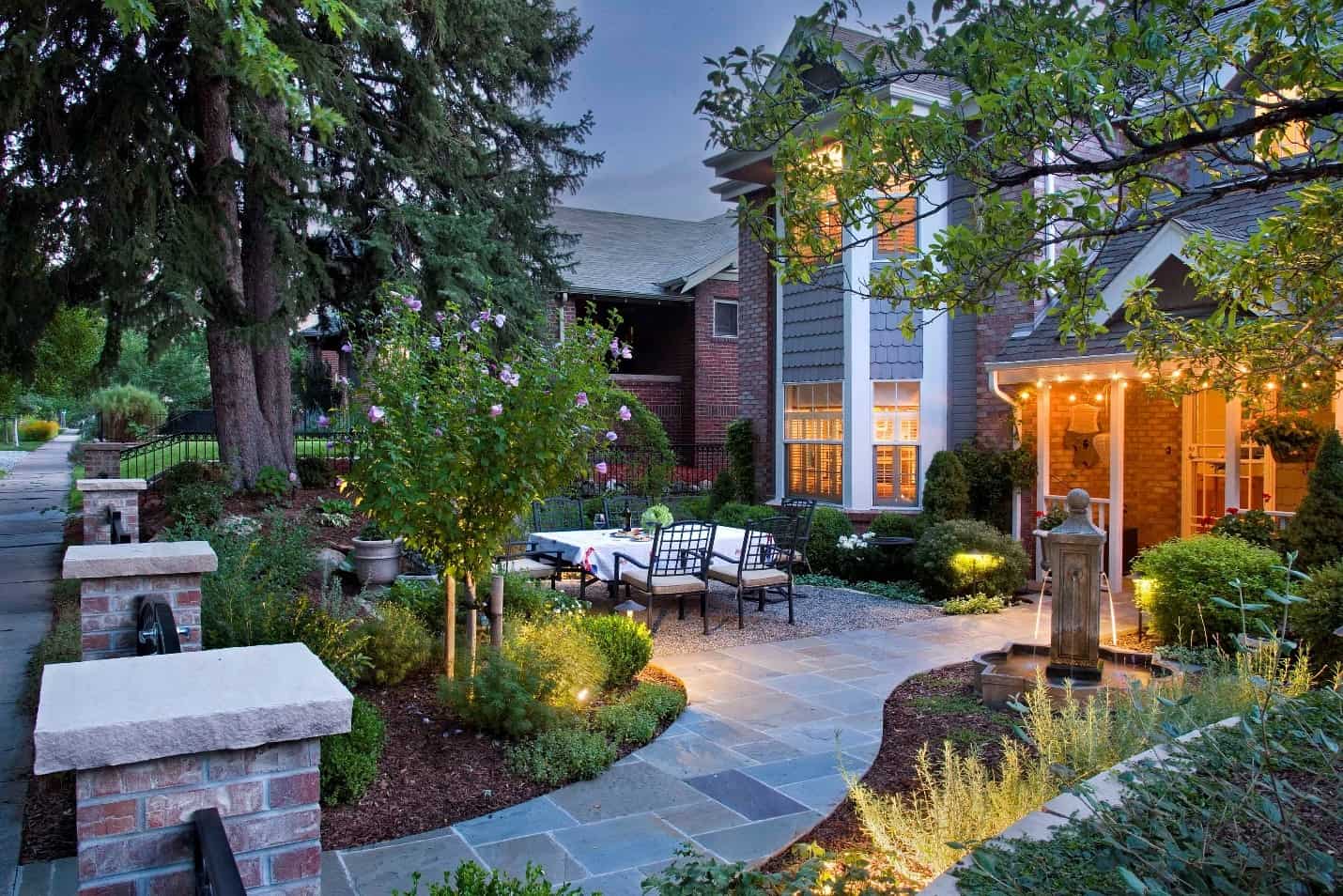 1. Small Outdoor Space Ideas – Scaling Your Small Outdoor Space
You can design your outdoor space to accommodate anything you have in mind as long as you consider scale and make the best use of the area. A landscape professional can help you to incorporate design illusions to help the space feel larger.
2. Small Outdoor Space Ideas – Choosing the Right Plants
Plant selection plays a role in preventing a space from feeling overwhelming. Carefully think through your plantings to ensure that they're appropriate for a smaller space and offer the right balance of texture, variety, and color.
3. Small Outdoor Space Ideas – Using Color to Your Advantage
Color will help to make your outdoor space come alive and can also be used to divide the space into zones. Use color to define destination points within your backyard, such as outdoor dining or around the fire pit. 
4. Small Outdoor Space Ideas – Add Height to Your Space to Gain Privacy
Make the most of the vertical space within your garden by adding trees and shrubs that grow up instead of out. Vertical space can provide you with privacy and add a point of interest to a bare fence or blank wall.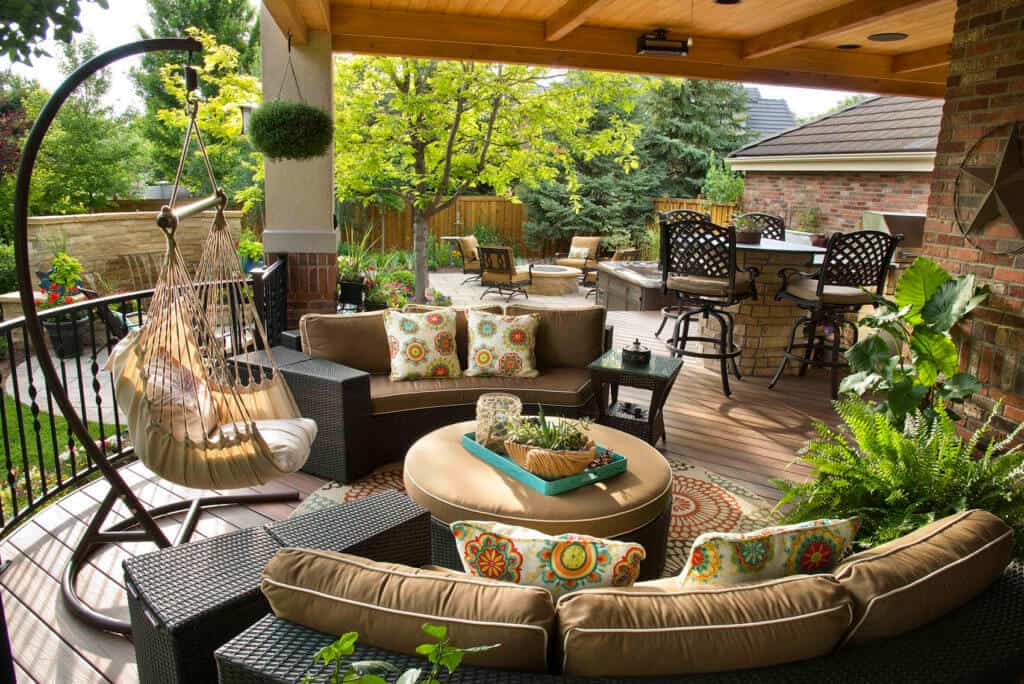 5. Small Outdoor Space Ideas – Designate Specific Areas
Just because your space is small doesn't mean you can't designate specific areas. In fact, the smaller your space, the easier it should be to organize it. It might seem like a good idea to keep your small space open, but creating sections with purposes will add dimension to your space and make it feel larger.
6. Small Outdoor Space Ideas – Embrace Neutrals as Well as Colors
Playing with colors is an attractive choice to bring your small outdoor space. However, introducing too many colors to your small outdoor space will confuse the style and make it feel cramped. Use neutral colors for most of your outdoor space, and the colors will pop the way you intended. 
7. Small Outdoor Space Ideas – Minimalism
When you have a small outdoor space, less is more. If you have limited options for furniture and decorations, you should keep it simple. When you keep your decorations minimal, you let your natural backdrop become the focal point of your small outdoor space.  
8. Small Outdoor Space Ideas – Add a Small Outdoor Kitchen
Not all outdoor kitchens have to be massive works of art. Just because you have limited space doesn't mean you can't implement a full-fledged kitchen. Simply scale your kitchen ideas down and watch your outdoor space take a different character as a summer hangout to eat.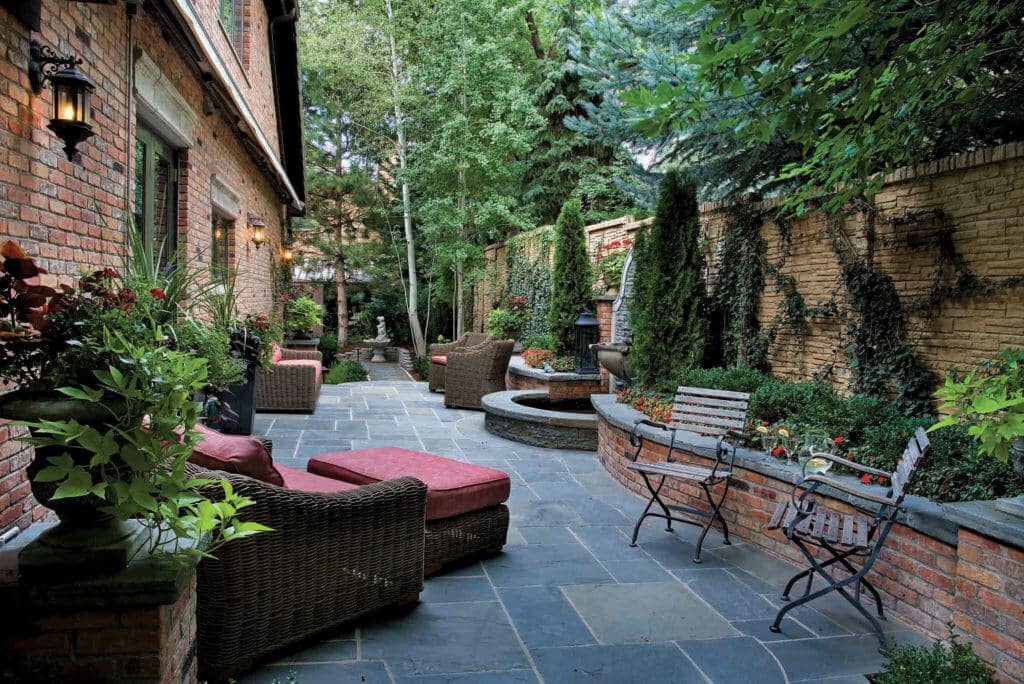 9. Small Outdoor Space Ideas – Create a Focal Point
Without a focal point for your small outdoor space, it can quickly become disjointed and lack character. Simple weather features and sculptures can stand out in a small outdoor space. 
A gentle, curving path that disappears at the end of your outdoor space can entice guests to wonder what lies beyond. Paving stones or tiles diagonally can elongate your yard's dimensions, add focal points, and generate visual interest. 
10. Small Outdoor Space Ideas – Define Your Small Outdoor Space
Above all, you need to pick a theme for your small outdoor space. If you never define the theme for your small outdoor space, there's no telling what you will wind up creating. Understand what you're trying to accomplish. 
For example, if you want to create an intimate space, construct a multi-level deck with steps, platforms, or terraces. Whatever you decide on for your small outdoor space, understand your vision, and you won't be able to go wrong. 
Best Outdoor Furniture for Your Small Space
When designing your small outdoor space, it's crucial to think about your furniture. The best outdoor patio furniture isn't the flashiest. It's the furniture that suits your space the best. Choose intelligent, functional furniture over the furniture that attracts the most attention. 
Multipurpose Outdoor Furniture for Your Small Space
Choose furniture that has dual capabilities, such as chairs or benches that have built-in storage spaces. There's no need to lose space for coolers lying around your patio when you can keep the drinks cool underneath where you sit. 
L-Shaped Couches 
L-shaped furniture maximizes your small outdoor space. You need to make the corners work for you. When you maximize your corners, you make more room for guests such as friends and family. Maximizing your space's corners also cultivates a more intimate setting for your guests. 
Minimize Your Coffee Table 
When you don't have enough space, you have to make sacrifices. If you have a tiny outdoor space, using a small coffee table and fitting your outdoor space as a romantic setting for two can help free space for other decorations and design elements. 
Use Glass Furniture 
Using glass furniture opens space in your area. Richly colored patio furniture stunts the visual components of your space and can create clutter. Clear furniture opens the smallest of spaces. 
Use Benches Instead of Chairs
Benches work particularly well if you have a small or narrow backyard. They allow you to push your seating up against walls or fences, and they allow for more overall seating. Because you can build benches into your existing structure and seat more than one person, they maximize your space's seating capabilities. 
Features to Include In Your Small Outdoor Space 
Including features in your small outdoor space will help establish a clear focal point and theme for your small outdoor space. These can be water features, animated lighting features, or an exciting fire pit feature. 
Adding Water Features
You don't need a massive space to add a water feature. You can invoke a note of tranquility in your space with a small fountain strategically placed. Doing so will add an extra dimension to your small outdoor space. 
Adding a Firepit
This backyard classic always deserves a spot in your backyard patio area, no matter how small it is. If you have a particularly narrow deck or patio area, you can squeeze your firepit into more snug spaces. 
Add Interesting Lighting
Lighting doesn't have to be expensive to be interesting. You simply need to add attractive light fixtures that direct your guests' eyes to the right place. Your lighting should accentuate your outdoor space's focal points and design elements. Lighting can truly warm a small outdoor space and turn it into an intimate gathering place.
Conclusion – 10 Small Outdoor Space Ideas
By embracing these landscaping tips, you can make the most of your small outdoor space and achieve an eye-catching design. Our team of landscape professionals at Lifescape Colorado's professional design team can help you with a custom landscape solution that best meets the needs of your space and budget. Contact us to get started on your next landscape project today!