Having a yard is great, but how do you make it feel cozy? Maybe you have a small backyard and aren't sure what to do with it. You need to divide up your landscape for different uses or features. One great feature to add to your yard is an outdoor living room, where you can relax, dine, or entertain.
You can approach your outdoor room just as you would any indoor living space. You will need furniture, flooring (even if it's just grass), a style, color scheme, etc., not to mention plants and perhaps a water feature. If you're struggling to decide on a style, French garden style is a classic choice that suits just about any space. This is because of the symmetry and order of the style.
Some hallmarks of French garden style are geometric shapes, boxwood hedges, well-manicured shrubs, neat garden beds, lavender and stone. If you have a small courtyard, this style would translate very well.
One way to combine an intimate outdoor room and lots of plantings is a pocket garden. If you're short on lawn area, make your outdoor room feel just as lush by adding dense groupings of planters to create an urban jungle. You can even use mirrors to make the space feel larger. Another small space strategy is to choose a simple neutral color palette and make use of every square foot, such as using built-in benches on a balcony.
Short on budget? You need little more than a picnic table, some string lights, and climbing plants to create an inexpensive outdoor entertaining area.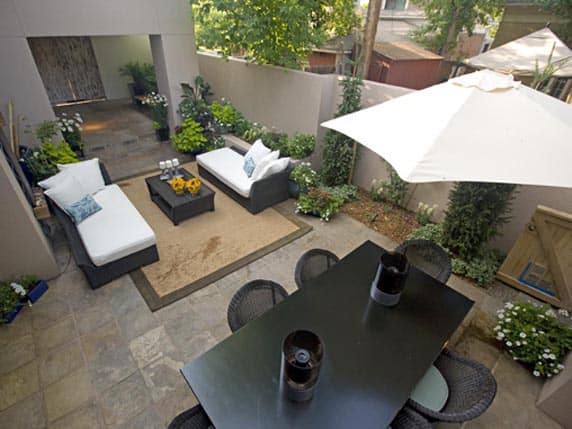 Need more ideas for your small yard? Consider adding some lighting to extend your use of an outdoor room to night time. Add a new outdoor area rug to pull your seating area together or refresh an existing one. If you're laying pavers, align them diagonally to create the illusion of more space. Especially in a small space, choose properly scaled furnishings and avoid clutter.
What are your suggestions for creating an intimate outdoor room? Let us know by leaving a comment.