With summer around the corner, it's even more important to keep your outdoor living area from falling to the wayside. Check out these outdoor living trends for 2015 to stay in the game this season: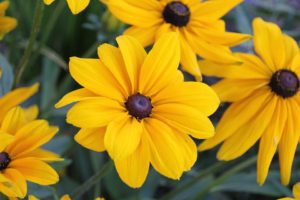 Natural Landscapes. Thankfully an ongoing trend, natural landscaping techniques like xeriscaping are becoming increasingly popular. Xeriscaping is a low-irrigation gardening technique, but you can also adopt native plants and other green gardening products. For example, seed-grown native wildflowers are not only beautiful but also environmentally friendly.
Edible Gardening and Eco-Conscious Plants. Who doesn't love plants you can eat? Edible plants are useful and beautiful, and you can eat food you harvested yourself! Plants are inherently eco-conscious, but being safe for children and pets is an even bigger plus. Blueberry plants and edible berries are wonderful choices for gardens.
Support for Bees and Butterflies. Delightedly, people are becoming more and more aware of the plight of our magnificent bees and butterflies. Homeowners are now planting milkweed to attract Monarch larvae and plants like lavender to attract bees.

Source: Pixabay

Colors. This season, elect to be fashion-forward in your interior and exterior. Don't be afraid to liven up your patio with bold colors — varying shades of pink, pastels, and light and airy hued bulbs are a must-have this season. You're not just limited to colorful plants, either! Choose colorful plant containers to add even more personality to your outdoor area.
Innovative Outdoor Entertainment. As American homes shrink in size, more and more homeowners are looking to transform their outdoor areas into a genuine living space. This shift has resulted in the increasing availability of outdoor products geared toward entertainment. Who wouldn't want a pizza oven to entertain children and guests at an outdoor gathering, or a heater so you can continue to enjoy your patio well into winter?
Portable Gardens. Convenient and charming, container gardens add foliage and a natural touch to even the tightest of spaces. Vertical wall planters offer incredible flexibility and can pretty much be hung anywhere in the home or outside.
For help turning your outdoor area into a modern liveable space, contact Lifescape today.