Hardscapes can be just as awe-inspiring as the plants that surround them. While the purpose of a hardscape is largely functional, it can be designed to significantly enhance the look and feel of a landscape.
Once the location and traffic patterns have been decided, the focus can be turned to creating a pleasing combination of textures and tones. From mixing materials to interplanting, there are several design strategies for making hardscapes more attractive.
Here are some creative paver, stone, and gravel design ideas for turning hardscapes into works of art.
Soften concrete pavers with green in between. Grass or other foliage joints can instantly add aesthetic value while creating commanding contrasts for a dynamic design.
Traditional European garden elements can be reinvented in a contemporary setting for a striking effect. A sleek allée of pollarded trees becomes a bold focal point in this elegant modern landscape.
Naturally interesting rock formations can become decorative points of interest to break up hardscapes. A moss garden turns this corner into a charming display of nature's finest carpet. A naturalistic free-form boulder planter will blend in seamlessly while adding sculptural appeal.
Garden beds can be cleverly incorporated into hardscapes to create a cohesive and engaging design. This unexpected succulent bed leverages a curve to bring more green to the scene. A modern courtyard is punctuated by narrow garden beds that make for chic accents in the hardscaping.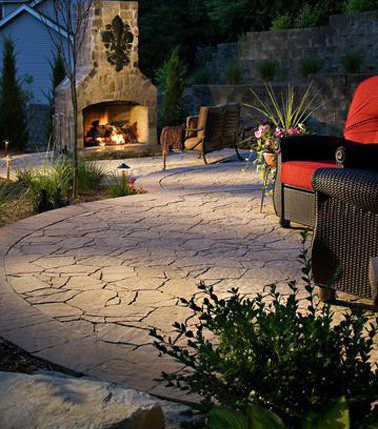 Even steps can be an opportunity to customize and enhance a hardscape design. Blue fescue and colorful perennials turn these paver steps into a garden in themselves.
Create your own unique blending of materials. A stunning modern-style hardscape design employs gravel, thin pavers, garden spheres, and interplantings. A simple yet striking design takes advantage of a few different materials to create textures, patterns, and pops of color.
Our team here at Lifescape would love to help you remodel your Colorado landscape with a custom design that features artful hardscapes, beautiful beds, and other personalized features and touches that express style and improve quality of life. Contact Lifescape online or by calling 303.831.8310 to set up your consultation.