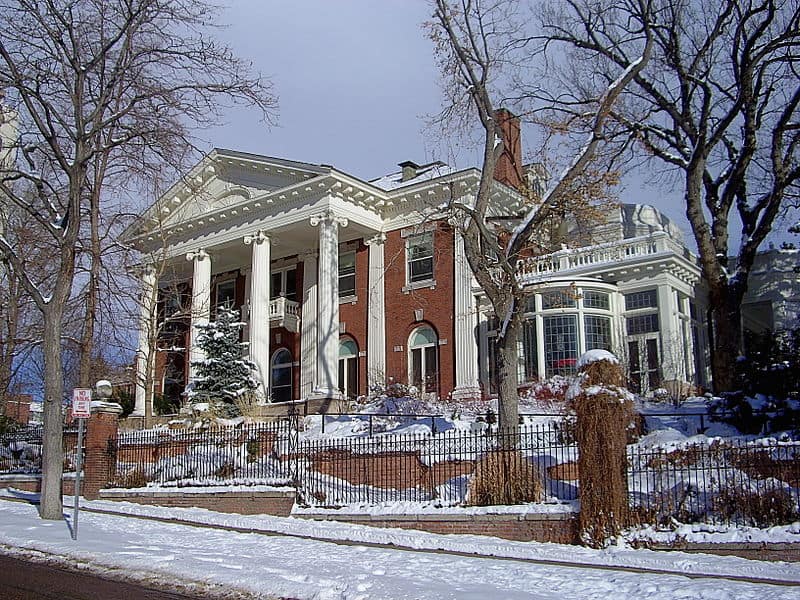 The Colorado Governor's Residence at the Boettcher Mansion will be open for public tours Dec. 14 to 20 from 10 am to 2 pm. This provides the perfect opportunity to see "Colorado's Home" bedecked with holiday finery. The interior was decorated by the Colorado chapter of ASID, while Lifescape Colorado had the honor of decorating the exterior grounds of the Governor's Mansion.
Tours are free of charge, but tickets are limited, so we recommend making reservations to hold your spot. In addition to beautiful holidays decorations, guests will be able to see art and artifacts with ties to three original Denver pioneer families — Cheesman, Evans and Boettcher.
Throughout the 19th century, Americans who believed in the Manifest Destiny set their sites outside crowded East Coast cities and began the great westward migration. In 1861, one of these pioneers, Walter Scott Cheesman, drove an ox cart from Chicago to Denver and joined his brother in the drug store business. Cheesman worked hard to make the most of his new town, and was instrumental in bringing railroad services and developing the real estate market. In 1907, he began construction on what is now the Governor's Residence.
The home's construction was continued after his death by his wife and daughter Gladys Evans. In 1923, the house was sold to successful businessman Claude K. Boettcher and was presented to his wife as a Valentine's Day present in 1924. Eventually, the home was left to the State of Colorado to be used as a Governor's home.
The Governor's Residence has evolved and grown over the past two centuries. It features stunning Colorado landscaping, including a pond, an extensive fountain-centered rose garden and a solarium. The interior has several celebrated architectural and artistic features, including a Waterford cut crystal chandelier that originally hung in the White House ballroom during President Grant's term in 1876.
Stay tuned for future updates on the decorating progress, as well as pictures from the upcoming media night on Dec. 2! Several of us from Lifescape will be attending.
Settle into the holiday season by touring beautiful Colorado landscaping and architecture at The Governor's Residence.