If you want to create a beautiful outdoor living space or garden but do not have enough yard space, trying looking up! The rooftop is one of the most underutilized areas of the home. But with the right design, it can become the most beloved living space of the home. Here are some outdoor living design ideas and inspirational photos for transforming your Denver rooftop into a luxurious outdoor retreat.
A Rooftop Living Room
A thoughtful hardscape and rooftop deck design can transform a rooftop into a second living room ideal for open-air entertaining and enjoying awe-inspiring views. You can incorporate built-in benches or or dress it up with the right outdoor furniture that creates zones for outdoor dining and lounging.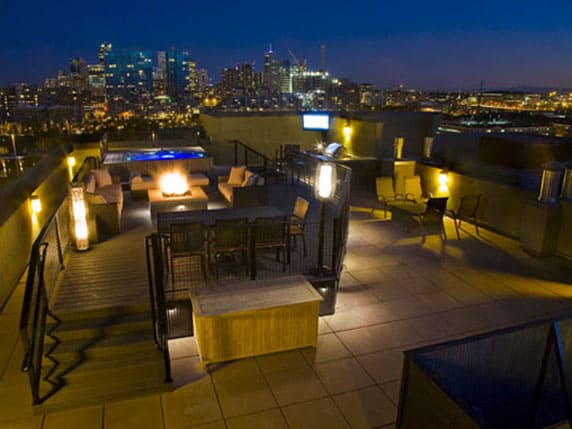 If you work with a landscape company that specializes in hardscape designs and luxury outdoor living, you can design a custom space with a variety of features and amenities.
An Outdoor Kitchen for enjoying cooking and entertaining in the great outdoors.
A fire pit for warmth in the winter and ambiance in the summer.
A hot tub and/or a refreshing rooftop shower for a truly luxurious living space where you can enjoy relaxing and cleansing in the sun or beneath the stars.
A Rooftop Garden
Turning your rooftop into a garden can transform this space into a green oasis. Butt you will want to be careful to choose plants that can handle the strong rays of the sun, especially in our area. Here are some great drought-tolerant plants for Colorado rooftop gardens.
Lewisia cotyledon: This low-growing plant with blooms in shades of peach, orange and pink is suitable for planters, flowerbeds and rock gardens.
Sedum rupestre: An attractive succulent, Sedum spreads nicely, making a lovely groundcover on its own or interspersed with other foliage.
Sedum spurium: This succulent adds an interesting splash of burgundy foliage and small red blooms.
Helictotrichon sempervirens:  Plant this ornamental grass in planters atop walls for added privacy or use several in a row as a natural divider between rooftop areas.
Creating a safe and beautiful rooftop oasis is a hefty undertaking. Lifescape can help you develop your rooftop sanctuary from start to finish. Contact us today to learn all about Denver outdoor living design for your home or business.