Outdoor structures – trellises, arbors, pergolas and other carpentry – have the wonderful ability to add function and interest to landscapes while also creating a connection between homes and landscapes. But with this carpentry, there can be more than meets the eye. These structures can serve multiple purposes and add unexpected function. Here are some reasons – which you might not immediately think of – to boost your landscape or garden with one of these support structures.
Trellises
A trellis is usually incorporated into gardens and landscapes to hold climbing plants. Here a trellis doubles as a fence enclosing a courtyard and adding privacy while still not stealing attention away from plants and greenery.
Arbors
Sometime in the shape of an arch, arbors can be used to add definition and privacy by placing them at the beginning or end of a walkway or by creating a tunnel effect.
Arbors can also be added to areas of the garden which could benefit from a little height. Or, they can be built with a swing, like this arbor design by our team here at Lifescape.
Pergolas
This narrow pergola may seem insignificant but it actually serves an important function. It filters the sunlight just enough to keep plants from being scorched by the sun.
Designed and constructed by the Lifescape team, this pergola turns this outdoor space into a beautiful garden scene complete with a stage for entertaining. When there aren't horns and strings, this space makes a wonderful outdoor dining area.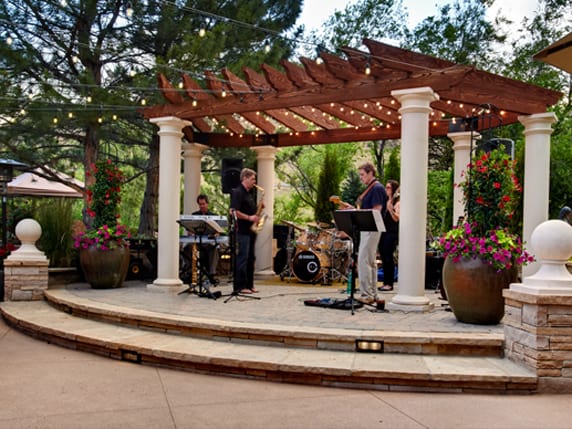 See some of the other trellises, arbors and pergolas that Lifescape has designed for clients across Colorado by browsing our gallery. If you're ready to do more with your yard so you can actually use (and enjoy) it more, contact Lifescape. Our talented team of landscaping professionals can work with you to develop a custom landscape design that is functional and beautiful year round.