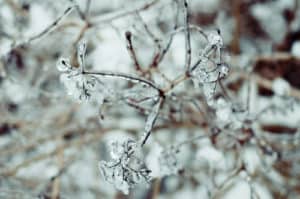 For many people, the winter season provides a welcome relief from outdoor maintenance. "Finally," we sigh with relief, "three months of pure unadulterated reading/watching TV/moves/etc. on the weekends!" It is true that winter does cut down on the weeding and planting but before you get too cozy, pay attention to these winter hardscape maintenance tips. Proper de-icing techniques will save the life of your hardscape.
Smart ice prevention can be the key to extending the lifespan of your landscape features. Salt has been the go-to solution for icy driveways, walkways, and entrance steps. Unfortunately, it's brutal for the structural integrity of concrete, brick and even pavers. In addition, the run-off can be detrimental to the surrounding soil and plant beds. Consider these options for preserving the life of your pavers and other hardscape surfaces:
Invest in salt-resistant materials
Mix the salt with sand to mitigate the concentration
Only use salt for de-icing rather than de-snowing
Once the ice is loosened, remove it as soon as possible to minimize the surfaces' exposure to salt
In the spring, make sure to thoroughly rinse the surfaces which were exposed to salt to eliminate any residue which can continue to wreak havoc even after the ice has melted
Feel free to give the team at Lifescape Associates a call if you have any questions about your maintaining your Colorado home's landscape design.
Don't forget that Lifescape Associates is offering a winter hardscape discount from now through the end of March. It's the perfect time to begin planning new projects!