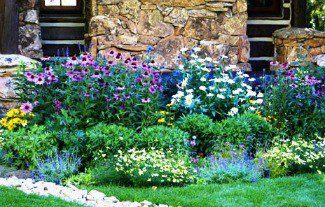 Now is the time to start planting those annual flowers, tender veggies,  perennial herbs and berries. Plus, those beautiful flowering perennial plants that bring the landscape alive with color and texture. Early May is the perfect time to fill your garden with color and flavor!
A new trend in the garden is to mix the edibles with the growables. Here's a great example from the ALCC.com, by interspersing  parsley and broccoli, for example, among perennial plants and the annual flowers you'll be planting soon adds new interest in the garden.
It is also a great idea to compare edibles with companion plants because the right combo can help deter unwanted pests.
Here are a few suggestions of what perennial edibles and hardy vegetables to plant in early May:
Starter plants of lettuce (if you haven't planted seed), broccoli, cabbage, kale and onions.
Perennial herbs like oregano, thyme, lavender and sage.
Fruits: strawberries, raspberries, blackberries and fruit trees.
Are you ready to start planting this week?
Source and Image: ALCC.com