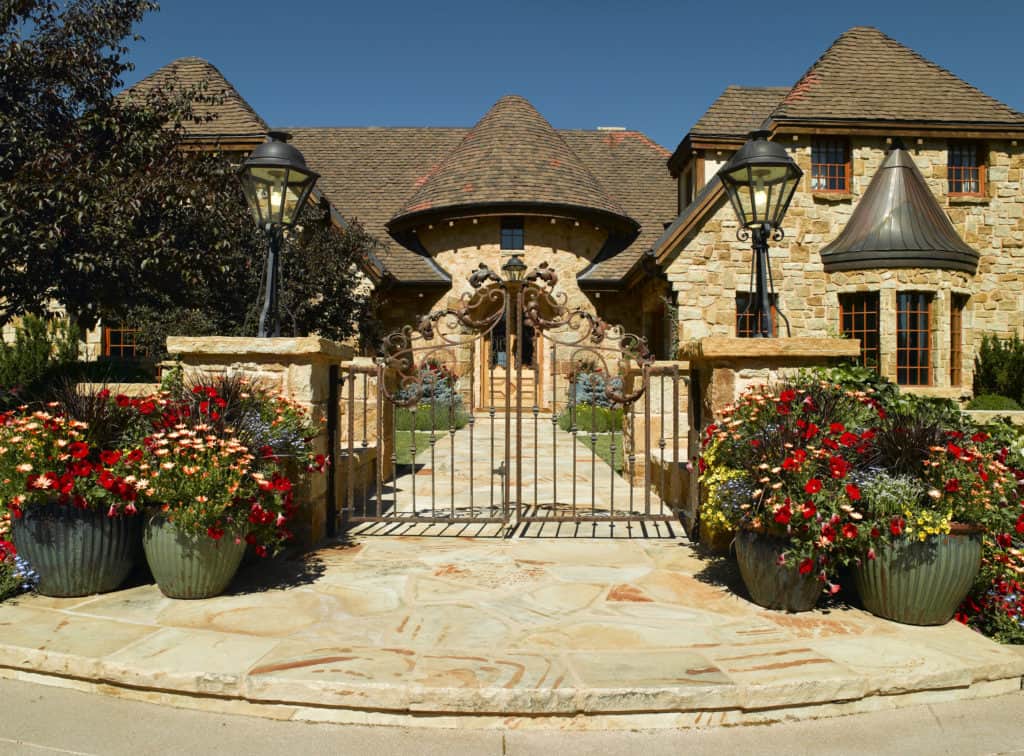 Looking for some landscape architecture inspiration for your luxury Colorado home? We invite you to take a photo tour of an exquisite Cherry Hills property, which our team here at Lifescape Colorado recently finished designing and renovating. Located in the suburbs of Denver, this impeccable residential landscape has it all – recreation, entertainment and an elegant, dynamic design.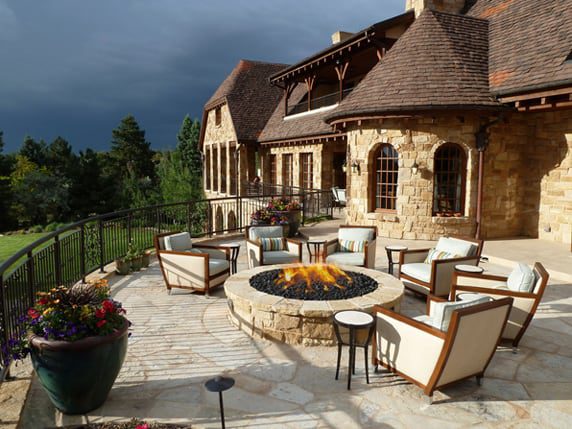 This photo taken before we began renovating really captures the state of the space, which was intended to be a garden. However, the homeowners later realized they did not have the time to invest in it.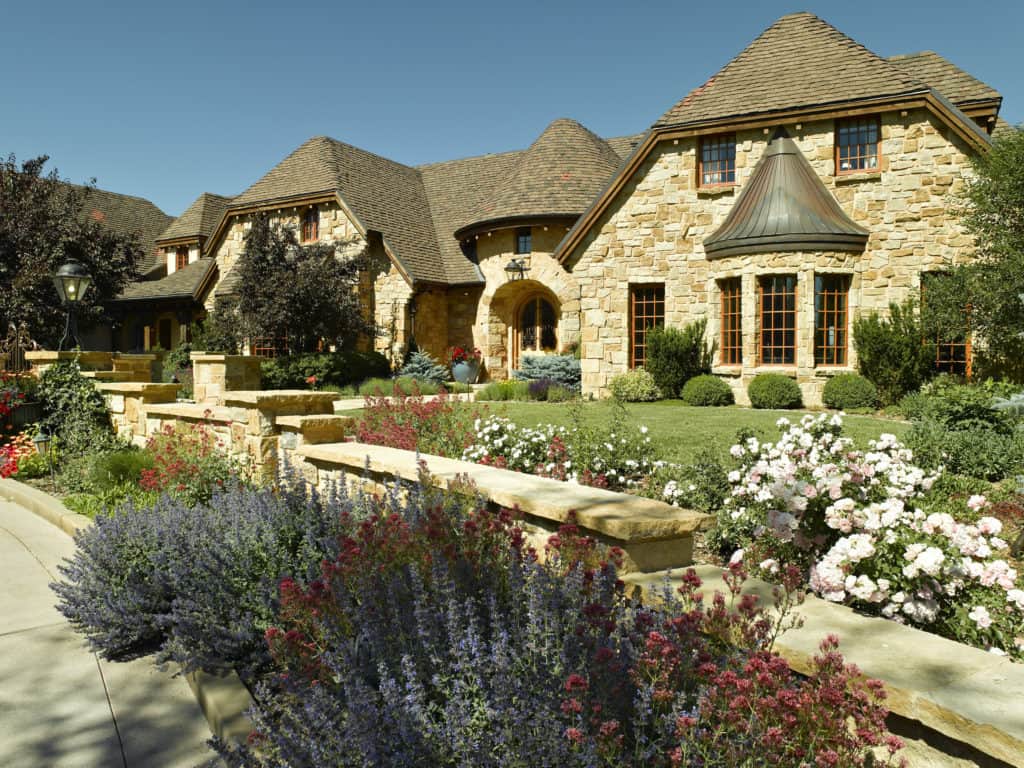 This shot of the front yard shows how we were able to bring the landscape to life with vibrant, xeric and native plants, as well as a sophisticated layout with a manicured look.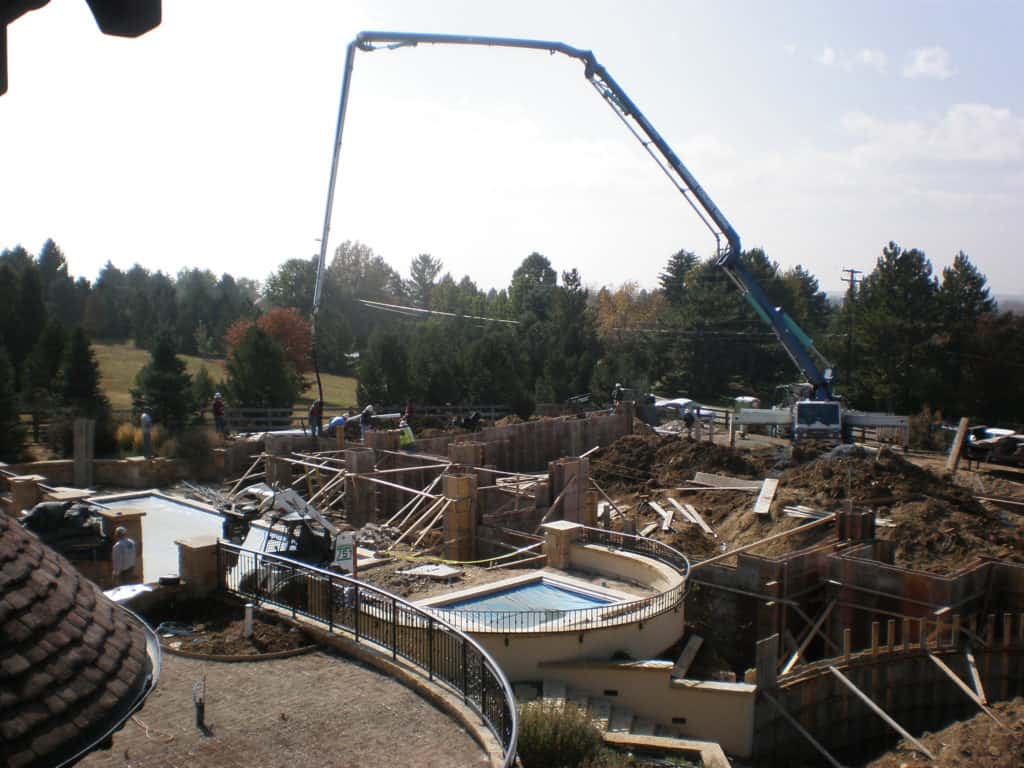 An action shot taken during the construction process shows our team filling the 8-inch thick concrete walls surrounding the tennis court and outdoor living area.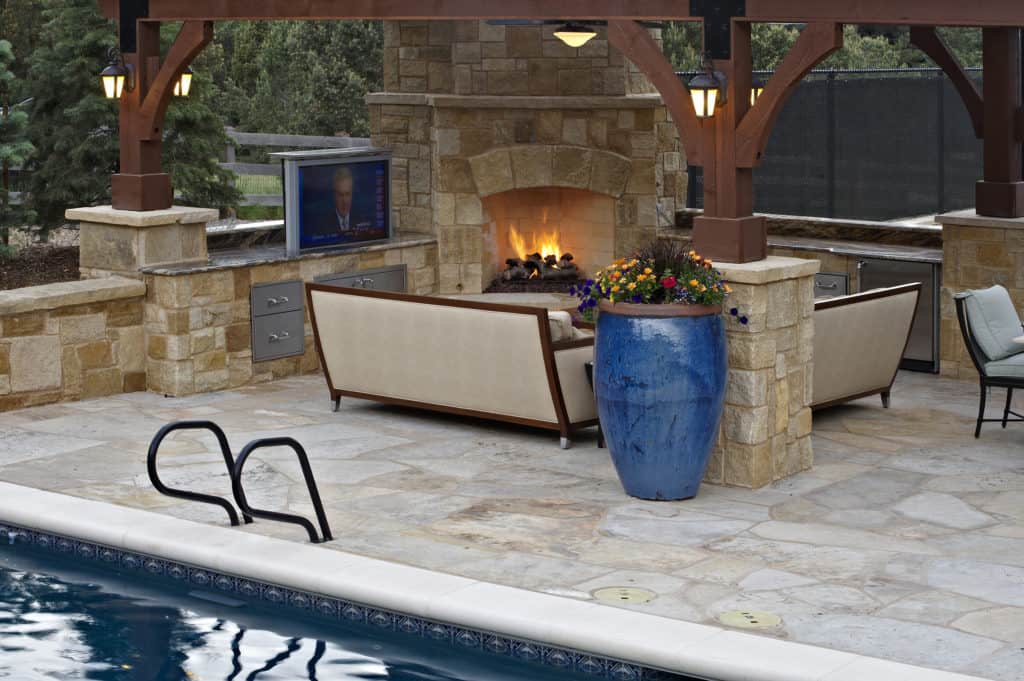 A luxurious outdoor living room was designed with a TV, cedar covering and limestone fireplace for relaxation and versatile entertaining. The TV can even lower into the stone counter to maximize entertaining possibilities.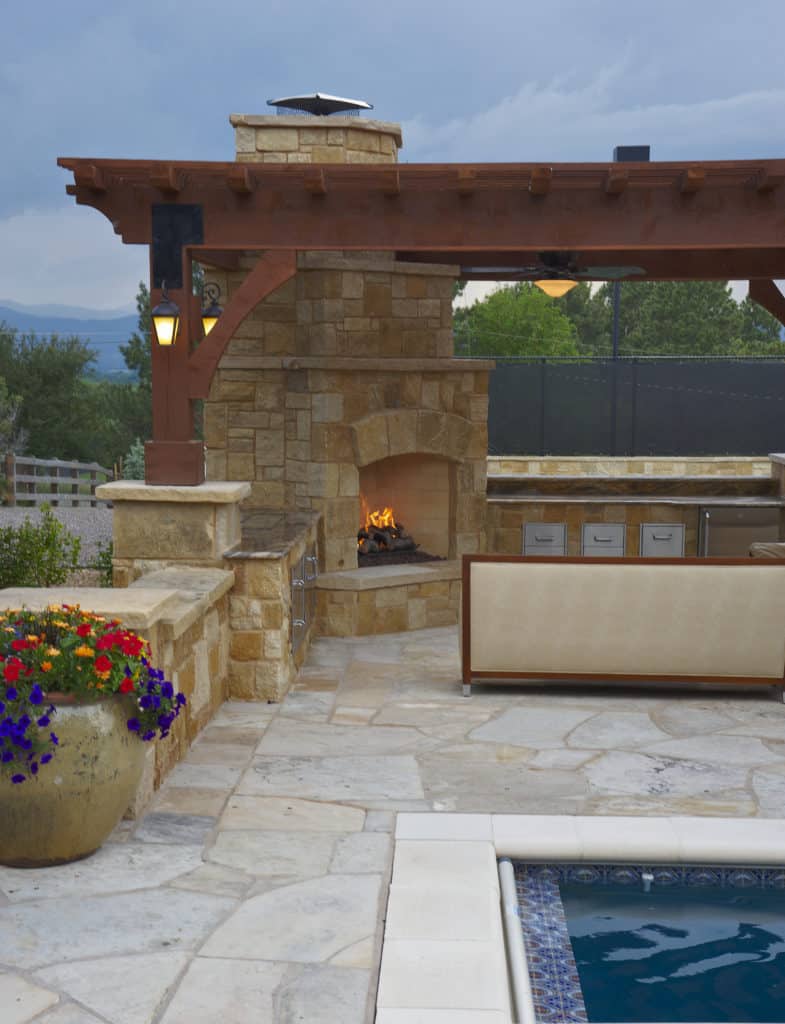 At this angle, you can really see the gorgeous palette created with the combination of the cedar arbor and large, limestone fireplace.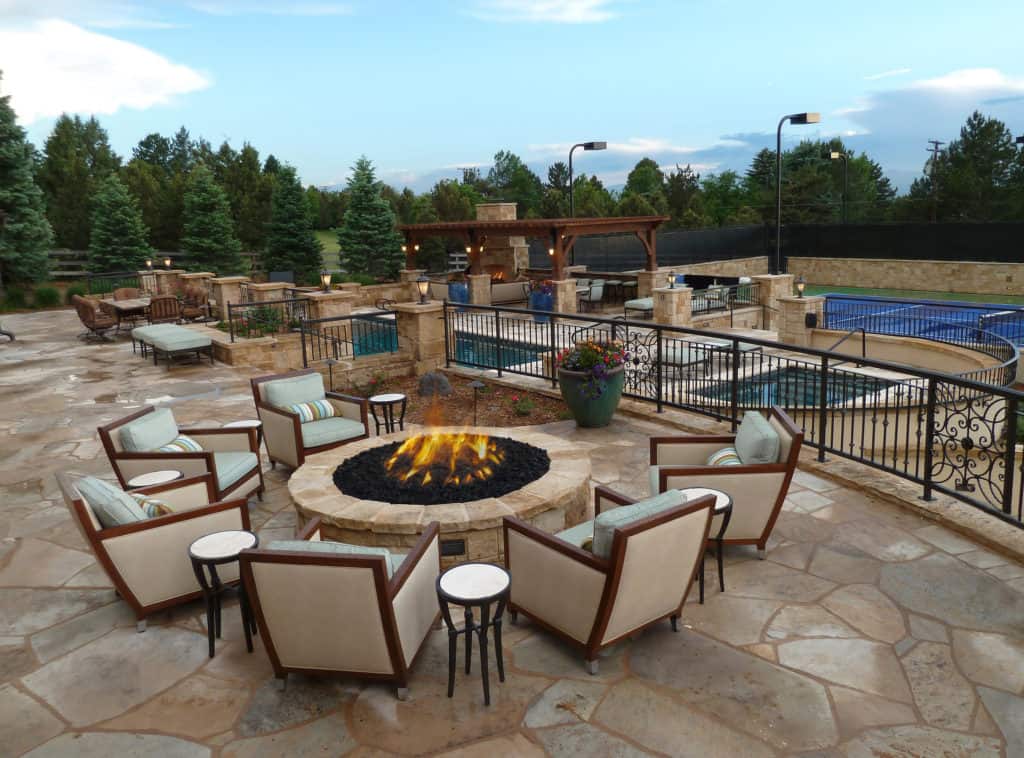 The expansive stone terraces offer multiple opportunities to enjoy wonderful views of the pools, tennis court and Colorado Front Range.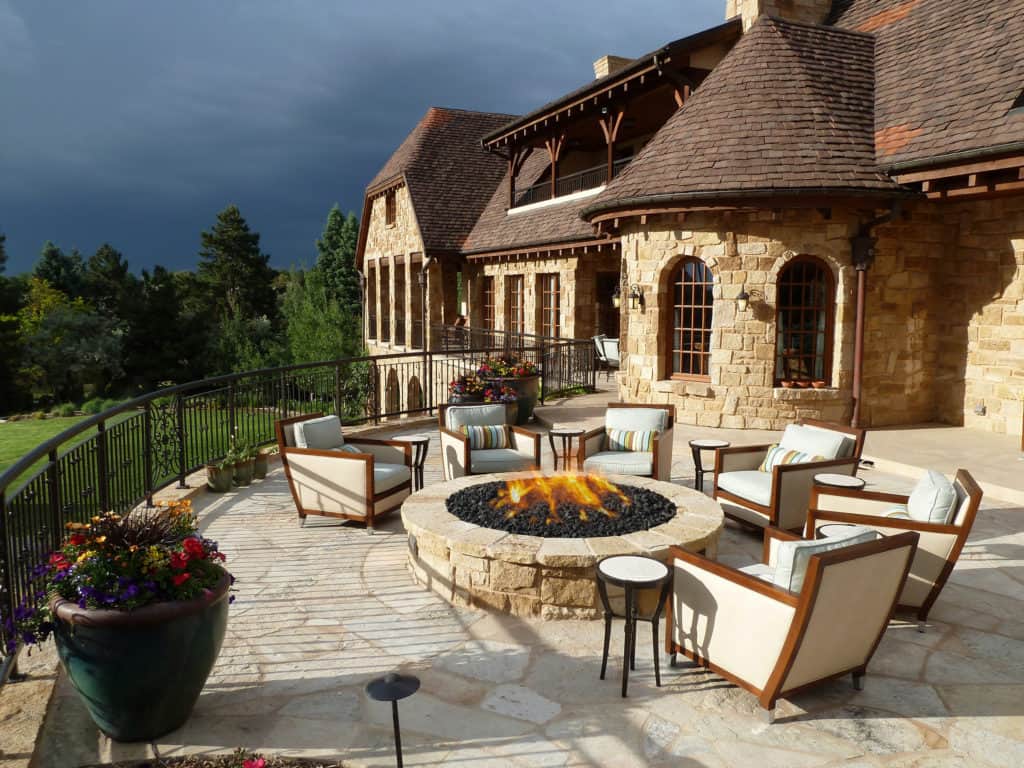 A built-in fire pit spanning seven feet in diameter creates the perfect space for people to enjoy a cozy and warm get-together outdoors. Notice how we carefully chose stone veneers for the hardscaping to harmonize with the home's exterior.
In addition to a grand fireplace and luxurious furniture, we added amenities like a ceiling fan and refrigerator to make relaxing and entertaining in this outdoor room all the more comfortable and luxurious.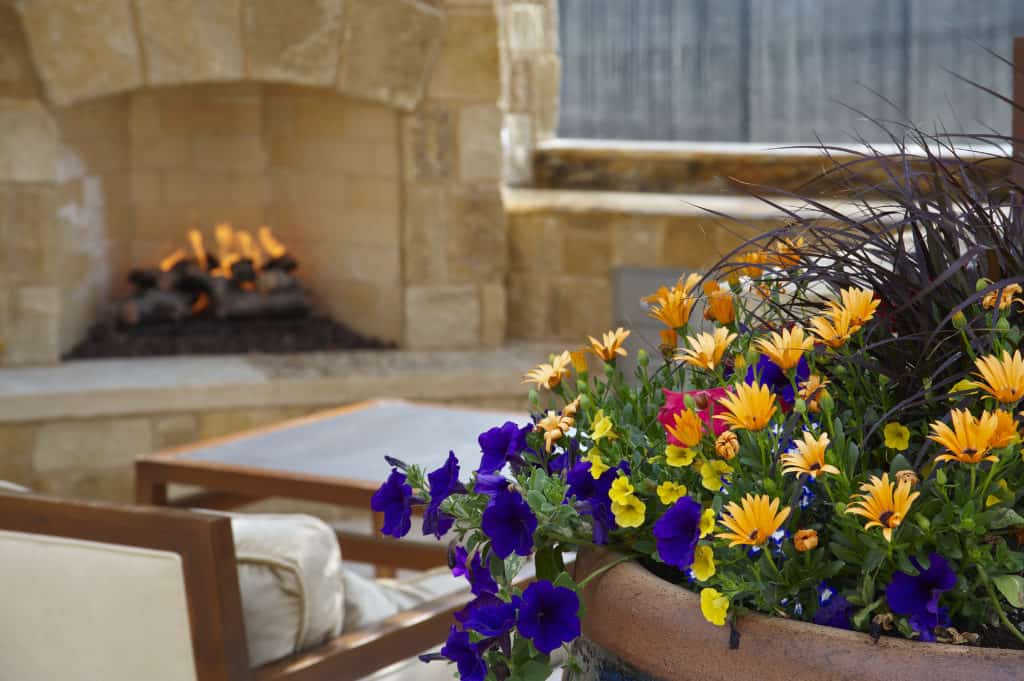 We designed these container arrangements of colorful, cascading annuals to contrast the earthy neutrals of the stone veneers.
A gorgeous granite bar allows users to enjoy a front-row view of the action on the tennis court from the covered bar area.
As if the regulation tennis court modeled after the Centre Court at the US Open wasn't enough, we also designed stunning stone veneer stadium seating.
We're excited to announce that Lifescape was one of PLANET's 2013 National Landscape Awards of Excellence Award Recipients. We're extremely honored to have been recognized for both our Cherry Hill Residence design and build and for our Colorado Golf Club project!
From planting beautiful, drought-tolerant gardens to designing and constructing entire hardscapes, our team of horticulture experts and landscape architects here at Lifescape Colorado can help you turn your Colorado home or commercial property into an outdoor oasis.
To see more examples of our gardening, landscape architecture and construction work, browse through the gallery on our website. Then, when you're ready to discuss a potential residential or commercial landscape project, contact us at 303-831-8310.