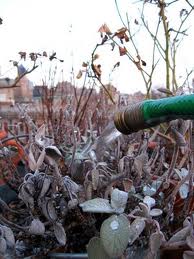 Yes, your Colorado plants and trees still need to be watered during Winter. However, not as frequently as in the previous seasons. Here are some useful winter watering tips from Lifescape:
Winter water is extremely important for the health of your plants and trees. Winter watering should take place approximately every three weeks when there are spells of warm, dry winter weather. You will need to deep water the trees and also water the plant beds and sod areas. Be especially sensitive to the needs of evergreen trees and shrubs, which continue to lose water through their needles and leaves in the winter. We realize that this is inconvenient when the irrigation system is deactivated; however, the resulting health and vigor of the plants are well worth the effort.
Lifescape Associates does offer a winter watering service at an hourly rate. Please give us a call at 303-831-8310 for details if interested.