When we work with clients to design Denver outdoor living spaces, we keep our eyes focused on long-term functionality. You can maximize your investment by designing outdoor rooms with year-round appeal. By striking a unique balance between delightful garden designs and stunning hardscape features, your outdoor room can be a place for your family and friends to enjoy all year round, while providing beautiful visual interest.
Denver Outdoor Living Designs Should Consider All Four Seasons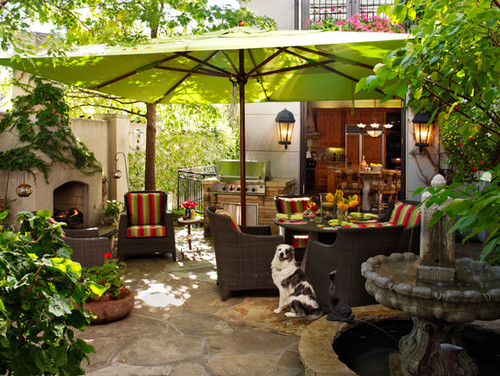 Windbreaks and shelter. Analyze your property to access its primary wind directions. It's important to build walls or extend overhangs in areas recessed by existing architecture to create a barrier from the elements. If you prefer a less-permanent structure, use large umbrellas that can be raised or lowered according to what Mother Nature has on her agenda in terms of sun or rain. Trees and shrubs also make beautiful windbreaks and shelters.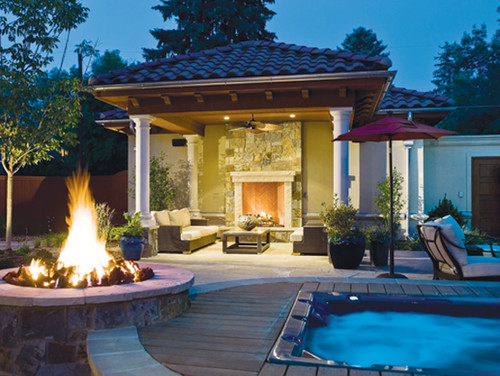 Hardscape features. Fireplaces and/or fire pits are one of the most desired hardscape features because they provide warmth and ambiance year-round. We recommend installing one under a protective roof and another on the outskirts of your garden, so you have plenty of options. Lighting is also a priority for both safety and ambiance. During the fall and winter, exterior lighting makes outdoor rooms more user-friendly, while highlighting interesting landscape features. Installing infrared heaters also adds warmth away from your fireplace.
Landscaping for interest. It's important to design a landscape that will provide interest year-round. This can be done by infusing your patio with colorful perennials and annuals. Plants like Berry Magic Holly look beautiful throughout winter, and you can also decorate container gardens during the bleakest months.
Comfortable furniture. Perhaps one of the most telling signs of whether or not an outdoor room will be used year-round is the outdoor furniture. Select comfortable furnishings that invite guests and family members to stay and relax a while. During the fall and winter, deeper cushions and a supply of throw blankets will help keep you warm.
Are you ready to implement these design ideas to an outdoor room with year-round appeal? Contact us online or give us a call 303.831.8310. Lifescape Colorado looks forward to designing and building beautiful outdoor spaces that are livable during all four seasons.